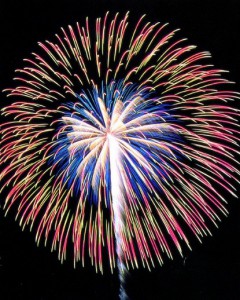 They wiz, sparkle, pop and twirl. They thrill and sometimes scare us. Do you recall the first sparkler that you got to hold? Was it an exciting, magical experience, or did you get burned? Do you really know how hot a sparkler can get? Most children are rarely concerned with safety, It is up to the adults to keep them safe. This is especially true when it comes to fireworks. We know that as the Fourth of July is approaching, many will have their own personal fireworks show. Believe it or not, over 11,000 injuries occur each year (more than half of them happen around Forth of July celebrations).
Most cities offer a free fireworks show around this time of year. I highly recommend taking in city fireworks show and foregoing a personal one. You won't have to worry about all the logistics of a personal fireworks display. You'll just have to worry about getting a good viewing spot and the traffic. If you are still set on setting off fireworks, keep reading.
First of all, consider the Law. Are you able to purchase and launch fireworks in your town or city? Do you know if the fireworks you have purchased are legal in Florida? Many of the fireworks sold at road side stands are not, such as firecrackers and roman candles. Setting off illegal fireworks can result in up to a year in prison and $1,000 in fines. Second, work out safety procedures ahead of time. Carefully consider these three safety areas; personal, property, and environment.Here's a checklist to help ensure a fun but SAFE fireworks experience for friends and family (also available as a printable PDF)
Personal Safety:
Do you have a first aid kit on hand? Sparklers can burn up to a temperature of 2,000 thousand degrees (glass melts at only 900 degrees).
Do you have a fire extinguisher and do you know how to use it?
Is water available to douse dud fireworks or to put out a fire? Put another adult in charge of dousing dud fireworks and to be on "spark" lookout. Have hoses and water buckets at the ready.
Are you familiar with the fireworks you plan to shoot? Only handle fireworks you know and heed all warnings. Leave the professional (or illegal) fireworks to the permitted professionals.
Have you refrained from alcohol? Alcohol and the handling of fireworks is not a good mix.
How will you ignite the fireworks to protect yourself if it goes off before it should? Make sure to not place your body over a firework when you are lighting it.
Sometimes fireworks do not go off like they should. Leave it alone for several minutes to be sure it really is a dud. Don't try to relight it. Douse with water before disposing of it.
Have you communicated safety ground rules to the guests (and especially the children)?
Stay in the clearly marked safe zone
Adults only should handle all the fireworks
It is not recommended that children handle fireworks. If a child is given a sparkler, he should be carefully monitored at all times.
Property Safety:
Does the launch area have a large enough radius to prevent fireworks from landing on any structures, such as a house, garage, or vehicle?
Have you informed your neighbors? It is courteous to inform your neighbors when you plan to host an event especially one that involves fireworks.
Environmental Safety:
Have you checked the weather? Has it been really dry in your area? Is there a temporary ban on burning? Will it be windy?
Let not your event be the cause of the story being told about how Uncle Gump lost the tip of his finger. We also don't want to have to replace our neighbor's grass or garage. Keep it fun while being safe and share these tips with your friends. If you would like great information on how to photograph fireworks, see our archived article on fireworks photography by Georgene Bender.
Here are some additional links on fireworks safety that you may find helpful:
Next week, Monica Brinkley will share food safety tips for your next picnic or barbeque! Your opinion matters to us- please take this short survey to provide feedback to help us improve this blog https://ufl.qualtrics.com/SE/?SID=SV_3gtLKjqia3F75QN.
0