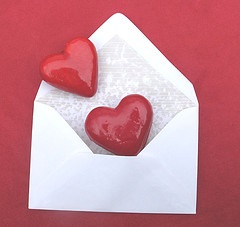 A handwritten note or card can express one's gratitude, thankfulness, care, or encouragement and has not gone extinct even in this age of technology. Just think about the last time you received a personal handwritten note from someone. You may have gotten emails, texts, or posts relating to the same event and you appreciated it all but isn't there just something a little extra special about receiving a written note?
Florida 4-H helps youth develop life skills. Life skills are those competencies (measurable or observable knowledge, skills, abilities, and behaviors) that assist people in functioning well in the environments in which they live. Life skills are transferable which makes them different from task specific skills like tying a bow or knot.
In February we think of all things related to the heart due to Valentine's Day. The second H in 4-H stands for the Heart. Looking at Targeting Life Skills in 4-H, the Heart has two life skills subcategories; caring and relating. The specific life skills under caring are empathy, sharing, nurturing relationships, and concern for others. Youth need an opportunity to demonstrate these skills throughout the year.
This takes us back to the handwritten note and your call to action to cultivate the art of note writing in our youth and give them another outlet of expressing the life skills connected to the second H in 4-H.
Tips to Get Started
Collection of note cards (Cards could be club themed and can even be hand-made by youth)
Good writing pens
Stamps (Unless personally delivering them)
Keep supplies in your 4-H club box so that you will have them when you need them
According to David Horsager, notes should be specific, personalized, and authentic (S.P.A.) The note does not have to be long. Younger members, such as cloverbuds may just want to draw a picture that expresses thanks or encouragement. If having youth write cards, teach them want should be included in an artful handwritten note:
What they are thankful for or what they want to encourage or motivate someone about
How the person has benefited them or how they will use the gift
Even as adults we can demonstrate the life skills under caring. One of my goals this year is to more deliberate and intentional when writing personal notes for work, family, or friends. With practice, this will become easier and having my supplies at work and home will help me get that personalized out and make someone's day a little brighter and better. What will you do differently this year to model the 2nd "H" in 4-H? Leave us a comment below!
~this article was written by Yolanda Goode, 4-H Agent in Gadsden County
0