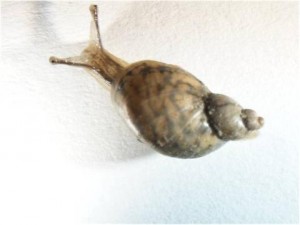 Occasionally on shipments of container plants, snails (terrestrial air-breathing gastropods) may be found attached to the container pot. Snails are abundant in nearly all parts of the world except the arctic regions, and feed almost entirely on vegetation. Those mostly encountered on nursery container plants are cone shaped reaching 1/2 to 2 1/2 inches in length and having an external enclosing spiral shell or occasionally rounded shell with four to five rapidly expanding whorls that are 1 to 1 1/4 inches in size.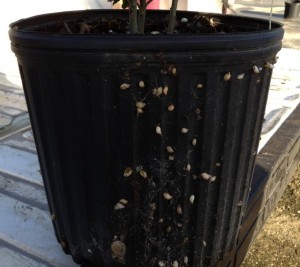 There are many species of snails. Most snails found on shipments are those restricted to tropical and semitropical regions requiring high humidity and warm temperatures. The U.S. has four native genera of Bulimulidae: Rhabdotus, Drymaeus, Orthalicus and Liguus. Of these, the last three genera are native to Florida. There is also another introduced genus in Florida, Bulimulus, which is primarily terrestrial. Other introduced species are Zachrysia provisoria and Caracolus marginellus in the Family Camaenidae occurs in Florida and found throughout much of the tropics.
Snails are also found in moist, shaded locations, which are similar to conditions found in container plant production areas, weedy locations or in organic trash. Most lay eggs throughout the season. Overwintering eggs may hatch in spring.
The following are general snail management suggestions:
Remove excess organic material under plants. Organic materials provide moist hiding places for eggs and smaller snails, and sometimes as food sources.
Monitor plant and environment moisture to reduce favorable snail habitats.
When possible, remove the snails by hand, which is a reasonable, effective, nontoxic and environmentally acceptable control option.
Check with your favorite garden store outlet for bait, biological, or chemical product control options.
For more information check out this gardening in a minute segment on snails and slugs.
0