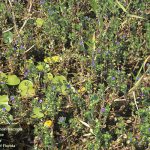 Bacopa caroliniana, also known as lemon bacopa, is a popular aquatic plant. It is mostly found in the southeastern United States in states such as Florida, Alabama, Georgia, South Carolina, Mississippi and even Texas. Lemon bacopa has a perennial life cycle that could make it a weed to some, or desired plant to others. Also, it can be found as a submergent plant or an emergent one.
It tends to grow near shorelines and sometimes in water that is less than 3 inches deep. Lemon bacopa has a single stem with opposite leaf growth. The leaves are thick and juicy. The reason some people enjoy and even encourage planting this plant is the pretty, attractive, purple-blue flower that sprouts. They are a popular plant used to add beauty to water gardens and to provide habitat in wetland enhancement as well as restoration projects. However, this plant can be easily propagated which could lead to it becoming weedy if not paid attention to carefully. Lemon bacopa roots easily from cuttings, so whether if it is purposely cut or by natural causes, it can easily spread and take over a water garden.
This species is very adapted and common throughout Florida. Although lemon bacopa can be weedy in some situations, it is most often considered a beneficial native plant that brings a number of desirable characteristics to almost any aquatic setting.
Source: UF IFAS EDIS publications
0