Bats – Helpful, Not Harmful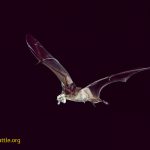 If you think you'd prefer a world without bats, we present to you three reasons to reconsider. Most negative stereotypes about bats are untrue. The reality is that bats benefit us in numerous ways. Here are a few facts that may convince you we should be thankful for bats rather than fearful of them.
1. INSECTS WOULD BUG YOU MORE IF WE HAD NO BATS 
Over two-thirds of the 1,240 species of bats that roam the earth's skies feed on insects. These aerial acrobats cruise over forests, grasslands, waterways, and crop fields, assisting us by consuming nighttime insects. Bats collect insects using a variety of innovative approaches: some scoop them from the air with their wing or tail membrane and transfer them to their mouths; others nimbly pluck insects off surfaces such as leaves, tree trunks, or even water. These bats are our allies, as they drastically reduce the number of pests that would otherwise bite us or damage our crops. It's estimated that bats help North American farms save around $ 23 billion a year. If all bats were lost, the resulting damage to crops due to the insects bats formerly kept in check is estimated to be $ 74/acre across the US.

2. SOME FOODS AND DRINKS MIGHT BECOME RARE IF WE HAD NO BATS
If you like tropical fruits like mangoes, papayas, guavas, bananas, or figs, you should be thankful for bats. Many bats in the tropics and sub-tropics pollinate and disperse seeds in ecosystems ranging from deserts to rainforests. Bats in the desert visit columnar cacti and agaves, ensuring pollination of the plants responsible for making tequila. Bats in the rainforests help regenerate new forests and ensure availability of many locally-consumed and highly-nutritious fruits.

3. BATS CAN HELP US SOLVE MEDICAL PUZZLES
Bats possess many unique biological adaptations that hold clues vital to solving human health issues. Bats have already made notable contributions to the medical community. The special blood thinning enzymes found in the saliva of vampire bats has helped us understand how to prevent blood clotting during open-heart surgery. The adaptations bats have for seeing in the dark are being studied to see if they could provide insight useful for assisting people who have limited vision.
Despite the many ways bats help us, they remain misunderstood by many. Fear of bats, called chiroptophobia, is the result of negative stereotypes about bats. Most of these stereotypes are downright untrue. First, there's a common belief that bats get caught in people's hair. This is highly unlikely: if a bat is agile enough to catch an insect the size of a gnat in flight, it can certainly steer clear of a human head. Second, there's a common fear that all bats have rabies. In fact, rabies is quite rare among bats, and much more common among raccoons and foxes in Florida. Third, despite the portrayal in movies of bats as aggressive towards humans, bats are in reality not likely to bother people. In fact, they're generally far more afraid of you than you are of them.
If you'd like to help bats (and perhaps get some free control of insect pests in your area), consider building or buying a bat house for your property. Also consider leaving dead and dying trees in your yard if they're not a safety hazard, avoid trimming dead fronds off your palm trees, and retain Spanish moss. All of these locations (tree cavities, dead palm fronds, and Spanish moss) offer roosting habitat for bats. By promoting bat habitat, you may boost local bats and find you have fewer insect pests nearby.