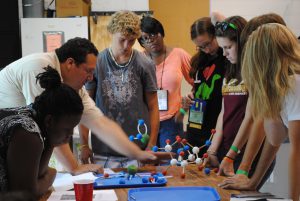 Most youth have started back to school, and soon we will roll over onto a new 4-H year as well! We are excited to kick off our Make a Difference Monday series next month. Make a Difference Monday is a online training series for both new and experienced 4-H volunteers. This year's series will focus on the concept of Independence. There are two Essential Elements for Positive Youth Development related to Independence: Opportunity to see oneself as an active participant in the future and the opportunity for self determination.
The first session will help volunteers perfect their processing skills as they facilitate 4-H learning in their club. Learning how to lead youth through the process of learning and discovery can be easier said than done. Sarah Hensley, our state curriculum and evaluation specialist, will provide simple resources and tips so that volunteers can become experts in our Learn by Doing Model.
The second session will really help us fine tune our skills at forging youth adult partnerships. How we as adults see youth sets the tone of our club and county program. This session will help us examine our own beliefs and attitudes towards youth (and how it impacts our success as leaders) and will also help us teach youth how they can have an impact on their own life rather than passively submitting to the will and whims of others. In short- it is about empowering youth to make decisions and prepare them to be leaders to make a positive difference. One of the most powerful ways that club leaders can foster this Essential Element is by engaging youth in the club programming planning. 4-H Agent Karen Miliffe and myself will help guide you through that process.
One of the most difficult tasks for youth is learning how to set SMART goals. For example, this year for my daughter's very first 4-H demonstration, she wanted to demonstrate how to make home-made pasta. Although that was an excellent idea, I felt that that would be a difficult demonstration for an 8-year old to pull off (to be honest, making home-made pasta is a bit of a challenge for most adults). Instead, I helped her choose a more realistic and age-appropriate goal- demonstrating how to make her favorite batch of cookies. Success in setting a achieving goals gives youth the confidence to aspire to more challenging goals in a safe way. This session, taught by our Positive Youth Development Specialist Dr. Kate Fogarty and 4-H Agent Sonja Crawford, will also help us better understand the ages and stages of positive youth development to guide us as we support different age groups of youth.
Sessions will start promptly at 7 PM Eastern/6 PM Central. You can join at home on our computer, phone, or tablet or if you prefer a group setting, you can contact your local UF IFAS Extension office for the nearest location available to you. More information is available at http://florida4h.org/madmondays.
| | | | |
| --- | --- | --- | --- |
| September | 19 | Fostering Independence with Learning by Doing | Sarah Hensley |
| October | 17 | Nurturing Independence through the Club Program | Karen Miliffe and Heather Kent |
| November | 21 | Encouraging Independence through Project Work | Kate Fogarty and Sonja Crews |
0