On August 10th, UF/IFAS Santa Rosa and Escambia County Extension hosted a field day covering moisture monitoring, cover crops, and best management practices at Mickey Diamond's Farm. Through a Florida Department of Agriculture and Consumer Services (FDACS) Best Management Practice (BMP) mini-grant, UF/IFAS Extension, FDACS, and NRCS have been able to examine how cover crops are working to improve soil moisture holding capacity by doing some work one of Mickey's fields.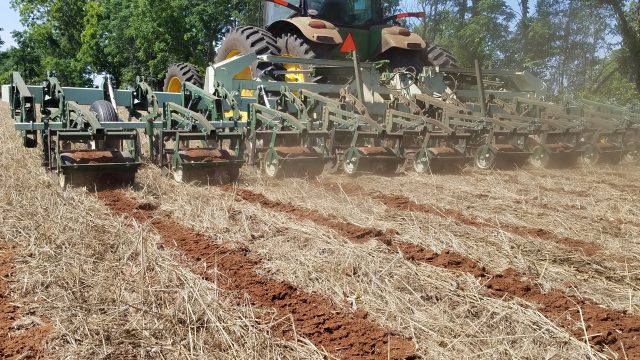 This past winter, Mickey established a rye cover crop in the field, but agreed to do a very early burndown on a portion of his field and left the majority of the field with rye actively growing. He terminated the crop by using a glyphosate application and then using a crimper roller to form a mat of rye on the soil surface.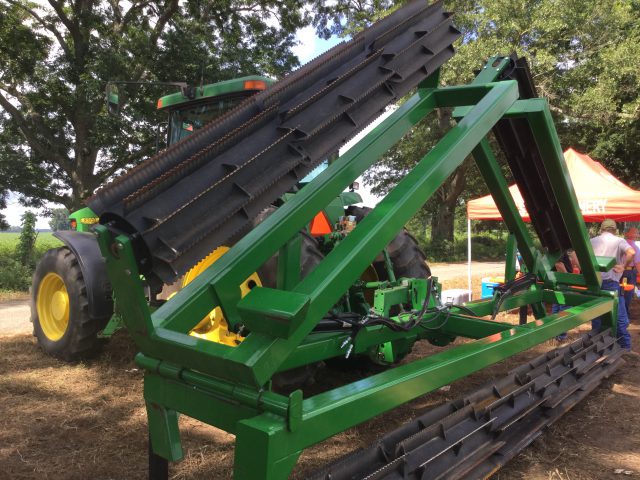 The field was stripp-tilled in late Spring, and planted in cotton. After the cotton germinated and put on true leaves, BMP Logic ( a private company) came and installed soil moisture sensors on each plot (cover crop and non-cover crop). These probes have telemetry capabilities, so the data were sent directly to managers of the BMP Logic site where they were analyzed on a regular basis.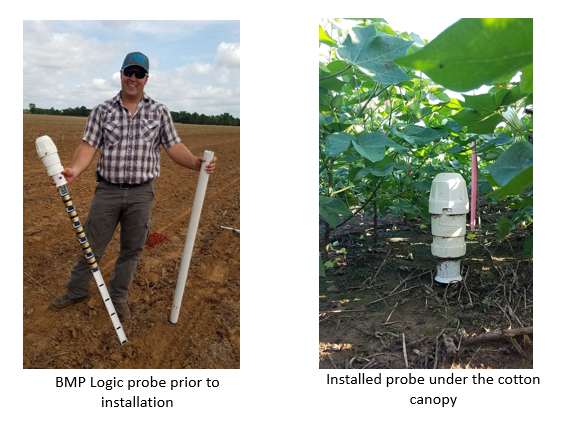 The rains held off for a few weeks early on in the season, so there was some difference noticed in the amount of moisture held in the upper horizons of the soil profile, where there was a cover crop, versus no cover. See the charts below.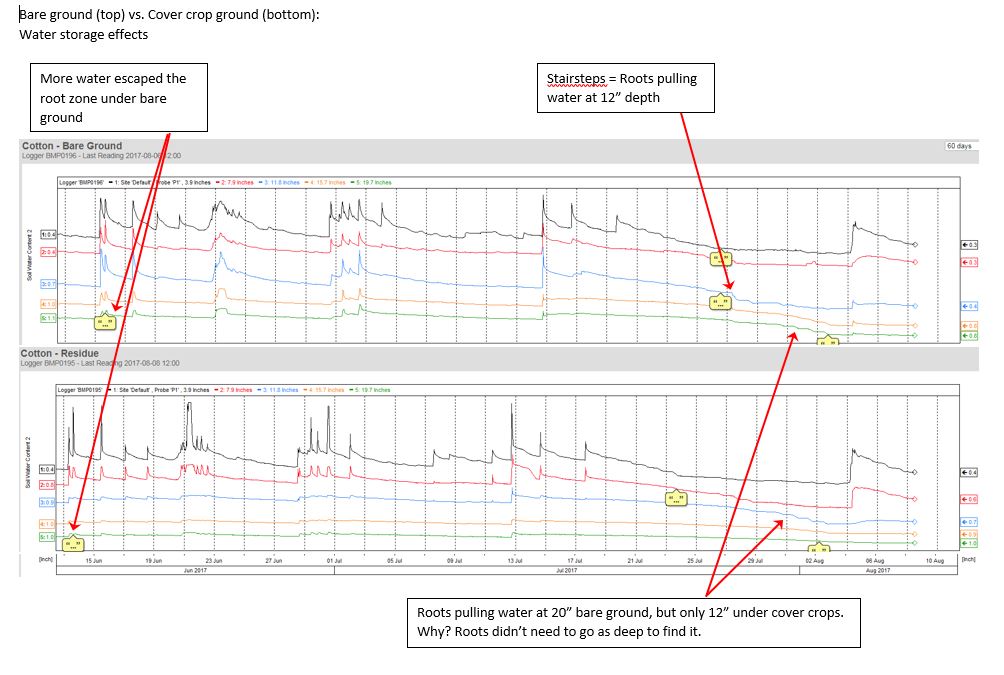 Other than soil moisture retention, why would a grower want to spend the extra time and cost to establish a cover crop? When that question was asked to the group attending the field day, some interesting answers came up. Many want to hold the moisture and increase infiltration through the root zone, but others want to supply some nitrogen by using legumes. Others were looking to scavenge nutrients from the previous crop. Others were using winter cover crops to graze livestock and needed the winter forage. A number identified reduction of run off and improving water quality as benefits. A reduction of weed populations and/or better management of weeds throughout the growing season, and reducing the cost of herbicides were other reasons to plant cover crops. Still, farmers said that managing any crop takes time and effort. Challenges for crop establishment included getting the actual seed desired, planting in a timely fashion, and difficulty in terminating the crop and planting into high residue. Tim Tucker, a Monroe county (Ala) grower stated, "It doesn't matter if you get the cover crop in by October 15; get it in when you can. The benefits are worth it."
The table below gives some good information on various cover crops that can be grown in the southeast and what benefits each could provide.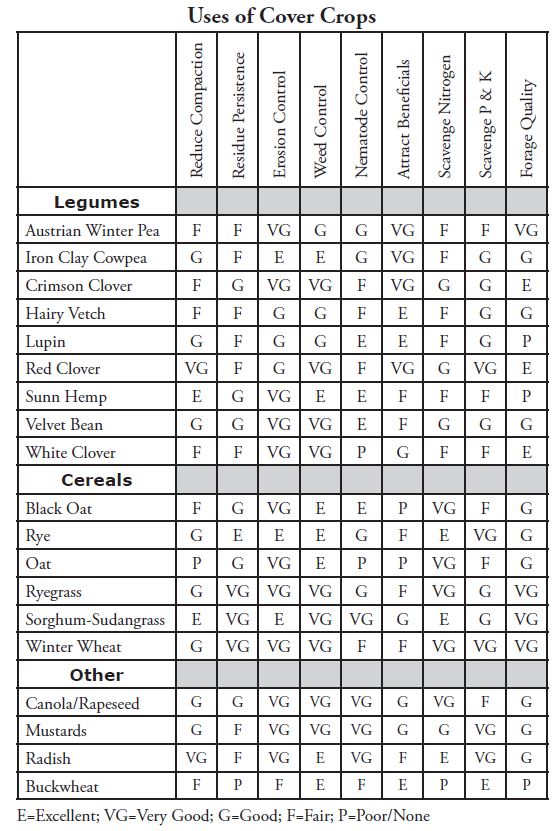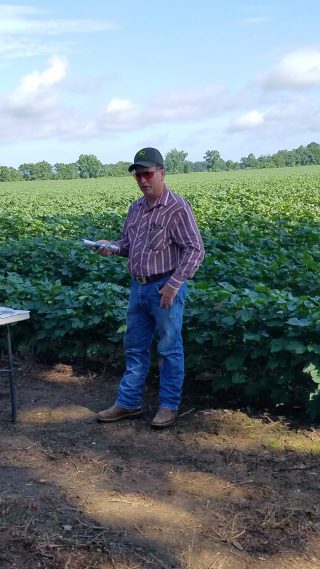 John Baggett, FDACS BMP coordinator for Escambia, Santa Rosa, and Okaloosa Counties provided information about some of the more popular cover crops for this area. Quick growing cereal rye offers the greatest production of residue and helps to suppress weeds, reduces soil erosion, increases water retention, and aids in organic matter accumulation. The extensive root system works to scavenge the nutrients remaining from the previous crop. The average price per bag will be around $13.50; the recommended seeding rate is 60-120 lbs/acre. If you plant 90 lbs/acre, the cost will be about $24/acre. Stephen Godwin, Santa Rosa County farmer, cautions about using high rates of rye when mixing with another small grain or legume. Because of the strong growth potential of this crop, he plants 20 lbs or less if he's going to mix it with another crop.
Another very popular option is winter wheat, an easy to grow and cost effective cover crop. It works well when planted in a blend with crimson clover. John found the average price to be $11.75 per bag, and at a seeding rate of 90 lb/acre, the average cost would be $21 per acre.
If you are looking to add a legume, crimson clover is always a popular choice. This crop can produce a high level of residue as well as fixing nitrogen. This crop is especially good for attracting beneficial insects, and bee keepers in particular would be happy to have a field of crimson clover nearby. Seeding rate for this crop is 15-18 lbs/acre if drilled. Clover seed is more expensive at around $56 per bag, but you use less seed in a blend.
Always pick a recommended variety; varieties that do well in north Florida can be found in this publication: Cool-Season Forage Variety Recommendations for Florida. There are many exceptional sources for learning more about cover crops and using them on farm. Please review USDA's publication, Managing Cover Crops Profitably for a much more detailed look at those three, plus many other cover crops. Finally, for specifics on UF/IFAS recommendations, Cover Crops is a publication with good information. If you have any questions about signing up for the BMP program, your local county extension agent can help you locate your coordinator, or you can scroll to the bottom of this FDACS BMP site to locate your coordinator.
0