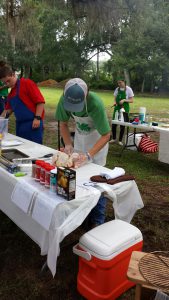 Tailgating. The smell of charcoal in the air. Cooking over a hot grill. Earning lots of scholarship money?
The Florida 4-H Tailgate Contest completed its first year in 2016, giving out over $15,000 in scholarship money to 4-H members. This was made possible by sponsorships from Winn-Dixie, National Beef, and Sonny's. In 2017, Sanderson Farms joins the list of sponsors for this statewide event.
While earning scholarship money is great, youth also learn many valuable life skills in the art of grilling. A curriculum series was developed (see below) to help youth learn about fire-building, meat selection, cooking safety, smoking and slow cooking meat, and cooking equipment. The Northwest District has been very proactive in hosting different tailgate and grilling day camps throughout the panhandle to further youth learning.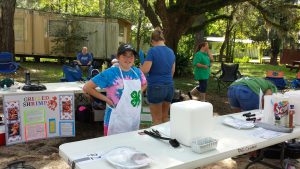 The Florida 4-H Tailgate Contest allows youth to grill two 6-8 ounce portions of one of the following proteins: beef, pork, poultry (half chicken or turkey breast), and headless, deveined, fresh shrimp. At each contest, judges will observe the food and fire safety of each participant and ask students questions about their recipe and safety knowledge. A team of judges will then evaluate the cooked product.
There are four contests hosted throughout the state including the South contest at 4-H Camp Cloverleaf, the Central contest in Dade City, the Northeast contest at the UF Horse Teaching Unit, and the Northwest contest held at the Washington County Fairgrounds. After youth compete at the local county contests/day camps, they can register for the district contest. The Northwest contest will be held on July 22, where the first place winner in each protein category receives $400, second place $250, third place $100, and fourth place $50. The top two winners from each protein area at the district contest are then eligible to compete in the state contest held at the University of Florida on October 14, 2017. For the state contest, the first place winner in each protein area receives a $1,500 college scholarship and the second place winner receives a $1,000 college scholarship.
We hope to see you at one of the many grilling opportunities offered throughout the Northwest District this summer through 4-H!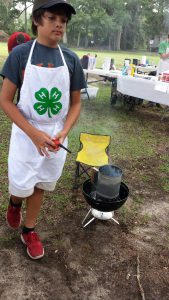 Day Camp Dates and Locations:
Contact your local UF IFAS County Extension Office to inquire about other Florida 4-H Tailgating Day Camps and to register for the District Contest. For more information, visit these sites:
0