In his 137-page report to the U.S. Supreme Court published on Valentine's Day, a Special Master appointed to oversee the case has stated, "Because Florida has not met its burden, I recommend that the court deny Florida's request for relief." This may not be the final word on the matter but it does sound like the "bottom line" as the highest court in the land will lean heavy on his recommendation when they rule on the case in the days to come. So, will this be the end of the decades-long battle over water rights in the Apalachicola-Chattahoochee-Flint River Basin? Considering the magnitude of what is at stake when it comes to this "Dixie-Style" water war, I seriously doubt it.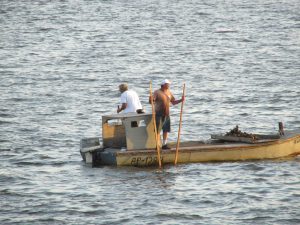 Florida argued for years that Georgia was illegally using water from its reservoir in Lake Lanier for unauthorized purposes according to the legislation that allowed the dam to be built in the first place. When that argument fell through during prior court rulings, the state sued claiming harm to the once prolific oyster fishery in Apalachicola Bay that has sustained a near total collapse that began in 2012. Florida contended that reduced freshwater flows tied to increased human needs upstream and sustained drought in the southeast had resulted in higher average salinities in the Bay, which added stressors (disease, parasites and predators), causing the crash.
Proponents of Florida's case were ecstatic when the highest court in the land agreed to hear this case, following denials to do so in the past. Proponents on Georgia's side of the case claimed that there was no proof that reduced flows had caused the crash and instead blamed poor management of the fishery for Florida's woes.
Special Master Ralph Lancaster largely agreed with Florida's assertions on the cause of the fishery disaster but still ruled against Florida's request for relief saying that the evidence based on low flows during drought periods did not prove how a cap on Georgia's water use during other times would provide the relief requested. Special Master Lancaster also hinted that Florida had made a grave mistake in not naming the Corps of Engineers as a party in this dispute. He said "Because the Corps is not a party, no decree entered by this court can mandate any change in the Corps' operations in the basin."
Georgia officials are breathing a sigh of relief as the economic impact to their state would have been substantial if this had not gone their way. On the other side of Lake Seminole at the State line, Florida's resource managers still worry about what they can do to improve conditions in a struggling estuary on the Gulf Coast, once known locally as the "Oyster Capital of the World."
0