Most coastal residents along the panhandle are aware of the invasive lionfish and the potential impacts they could have on local fisheries and ecosystems. Since they were first detected in this area in 2010, there have been tournaments, workshops, and presentations, to help locals both learn about the animal and ways to control them. Existing non-profits have joined the fight and new non-profits have formed. In 2015 FWC and local organizations began hosting the Lionfish Removal and Awareness Day (LRAD) events. These are held the weekend after Mother's Day. During the 2016 event in Pensacola, 8,089 lionfish were removed. In 2016 FWC introduced the Lionfish Challenge. This program began at the conclusion of the LRAD event and ran through September 30. Lionfish, or lionfish tails for those who wanted to keep the animal, could be turned into local collection sights and submitted for state awards and recognition – a Hall of Fame was created and King Lionfish. Over 16,000 lionfish were logged during this event. But has any of this helped? Are we getting control of this invasive species?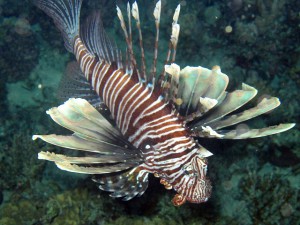 Maybe… having conversations with local divers who work with researchers and remove for profit, it appears that the 2016 Pensacola LRAD may have made an impact. If you review the literature it states that to control an invasive species a minimum of 25% of the population should be removed annually. Others say you need to remove 75% and others still say it should be 25% each month. The problem here is that we do not know how many lionfish are actually out there. We know how many we are bringing in but is it enough?
One report, submitted by the non-profit REEF (from Key Largo) a few years ago, indicated they had removed about 70% of the lionfish in their area during one tournament. Based on this, the argument that tournaments are effective was supported. The recent Pensacola LRAD suggest the same. Local divers who remove lionfish with researchers, tourists, and as a commercial venture for themselves told us that their "sweet spots" – where high numbers of lionfish can be found – are not so sweet anymore. They are finding lionfish, but prior to LRAD it was not uncommon for some locations to have 50-100 lionfish around them. These same locations may yield 10-20 now. Though this information is anecdotal; it does suggest that these intensive tournaments may be having an effect on managing them. Of course a quantitative study is needed to confirm these observations, but it is encouraging none the less.
It is believed the tournaments alone will not solve the problem. With their high reproductive rates, continuous removals are needed. To encourage this divers can obtain a Saltwater Products License from FWC and sell what they catch. Some dive charters are now making it a tourism trip – "lionfish hunting". As long as it marketed properly (as in they are not going to find tons of them – but will enjoy shooting a few) customers seem to be happy and are enjoying it. Of course they are still working on an effective trap so that non-divers can participate in control programs. It is also important to note that you should not get into a commercial venture on lionfish as your main source of income. To do so would lead to the argument "we do not want to get rid of lionfish because they are my livelihood". The objective is to make them uncommon and reduce their impact on our marine resources.
Of course it will take time to know for sure just how effective the tournaments have been. Several will be meeting this week in Ocala to discuss the 2017 tournament season. I have written a longer update on the lionfish, which can be found at the Escambia County Extension Marine Science page.
0