Who does not like St. Joseph Bay! What a place… One of the more pristine estuaries in Florida, St. Joe is famous for its snorkeling, fishing, kayaking, and scalloping.
15 miles long and 6 miles across (at its widest point), St. Joe Bay has no significant freshwater input. It's only opening is to the north and into the Gulf of Mexico. Because of the high salinity in the bay the seagrasses flourish. There are five known species that exist here and the meadows cover almost one sixth of the bottom. Healthy grasses mean diverse wildlife – and St. Joe Bay has it. Migratory birds, octopus, sea turtles, sport fish, urchins, and of course scallops.
The UF/IFAS Extension Natural Resource Agents will be hosting one of their water school programs in St. Joe Bay in September. This two-day program will offer presentations by specialists on a variety of topics, hikes through the uplands, visits to the salt marsh, and a kayak/snorkel trip into the seagrasses themselves. We will be staying at the St. Joseph Bay State Buffer Preserve in Port St. Joe. For more information about this program contact Erik Lovestrand at (850) 653-9337 or elovestrand@ufl.edu.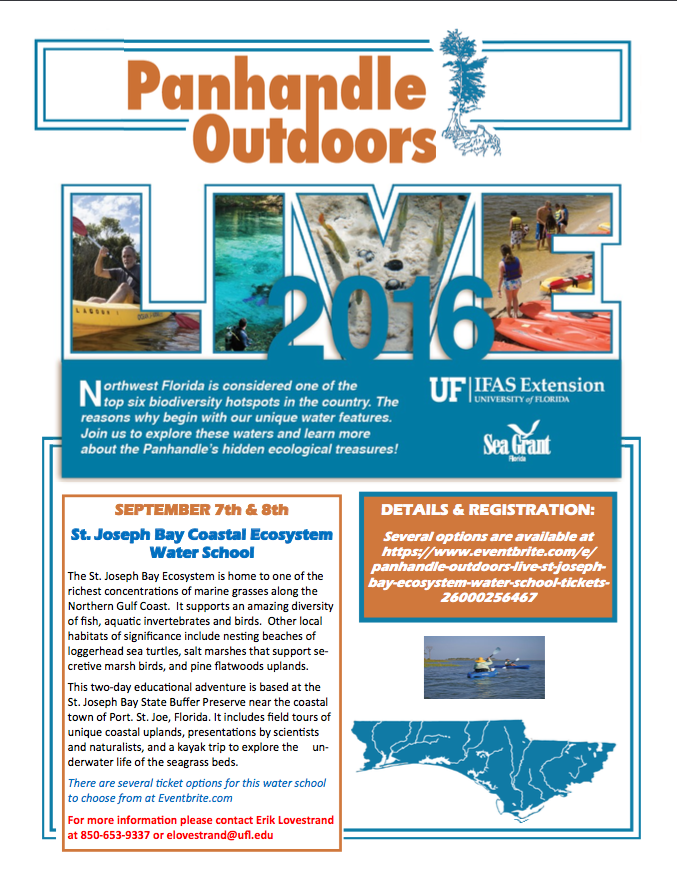 0