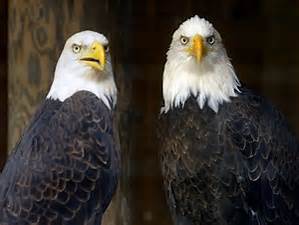 ARTICLE BY DOROTHY KAUFMANN – Wildlife Sanctuary of Northwest Florida
Orphaned bald eagles are being fostered by two non-releasable adult eagles at the Wildlife Sanctuary of Northwest Florida.
The amazing story of these eagles began on St. George Island when concerned neighbors, Kevin and Chantel Burdett, Lauren Levi, and Kenny Piotrowski, rescued two fallen chicks after their nest tree came down in a storm. Emergency care began with Chris Beatty, Florida wildlife Mammal Association in Crawfordville, after being transported by Apalachicola National Estuarine Research Reserve staff. One eaglet sustained injuries from the fall while the other remained uninjured. Plans were immediately underway to rebuild a nest and return the uninjured chick. The following day both eaglets were stable enough to be transferred to the Wildlife Sanctuary in Pensacola for continued care and treatment.
A team continued working to reunite the healthy eaglet with its parents but first a replacement nest had to be built. Next, a secure tree nearby the original site had to be found for the new nest. Finally, get the nest and chick to the top of the tree. Just how many people does it take? Well, this time it was three state agencies, two wildlife rehabilitators, one veterinarian, Duke Energy – the largest electric utility in the country, with their bucket truck, one EagleWatch Program professional, several concerned citizens, and one federal agency to attempt to reunite this eaglet. "It wasn't long before we had our ducks (eaglets) in a row for a coordinated effort to try sand reunite parents with chicks", said Erik Lovestrand, director of the UF/IFAS Franklin County Extension Office. "Duke Energy is proud to have been part of the effort to find these baby eagles a new home", said David Collins – government and community relations manager with Duke Energy.
The weather that had been the reason for the home nest to fall continued to dictate the little eaglet's destiny. The reunion day turned out to be very cold and rainy for everyone. Efforts to reunite the eaglet were unsuccessful. Foster parents… yes… that's plan B… the eaglets are both being raised by experienced "eagle parents" to have the best chance at a later release back to the wild. These adults are permanently injured bald eagles and residents of the Wildlife Sanctuary of NWFL. The injured eaglet is currently recovering at WSNF from a fractured leg and wing. Both eaglets are off display to the public due to the need to keep them wild. Video cameras at the Sanctuary allow viewing of the eagle family without any disturbance.
"Though I know we are all very disappointed that the parents did not return, we all pulled together to try to help this young eaglet which was a very awesome experience. We were so honored to be amongst such a wonderful and caring group of people", commented Chris Beatty.
How amazing that what seemed to be a day about a single family of eagles… is actually an ongoing lesson in caring, awareness, and community.
SPECIAL NOTES:
Attending veterinarian Dr. Tommy Knight of Westside Animal Hospital
The new eagle nest site was selected by Erik Lovestrand (UF/IFAS Extension), Lauren Levi (Apalachicola NERR), and Lynda White (AEW).
Supplies for the platform were provided by Jenna Harper (Apalachicola NERR) and constructed by Kenny Piotrowski (local carpenter).
The platform was secured and eaglet placed within by Duke Energy.
Neighbor Kevin Burdett also played an important role in encouraging the adult eagles to remain in the nesting area – he played audio calls of the eaglets.
Others attending the attempted eagle reunion monitored the activity and remained in an inconspicuous location awaiting the adult eagles return.
0