It's that time of year… the air is warming and spring break has begun. Crowds of locals and visitors have begun to descend on area beaches to enjoy the panhandle sunshine and waterways, and safety is always a concern.
One of the many water activities visitors can enjoy are snorkeling our nearshore reefs. From St. Andrew's to Perdido Key, panhandle counties provide several snorkel options that can be reached from shore. However, there are hazards that all need to be aware of and, with a few behavior changes, the risk can be reduced.
Know your limitations… Some of snorkel spots are an easy swim – some you can even walk to – but others can be a 500 ft. swim or more. Nearshore snorkel reefs must have 6 ft. of water clearance above them at low tide – to avoid collisions with boats – and this can be mean they are considerable distance from shore. If you are not a strong swimmer you need to consider a snorkel vest that can be inflated while you swim to the location. Once there you can deflate and enjoy. Keep in mind that this depth requirement may require a 20 ft. dive to reach the bottom.
Sun protection… with your face in the water observing the marine life you become comfortable and relaxed, but your back and legs will still be exposed to the sun. Recent studies have indicated that sunscreen has been a problem for coral polyps in the Keys but you will need to protect yourself. If you are not interested in sunscreen a long sleeve t-shirt or surfing chaff-guard should be considered.
A dive flag… they are actually required for snorkeling in Florida. With the number of jet ski and pontoon rentals exploring some of the same areas you will be snorkeling, this flag is a must. If snorkeling in open water, a dive buoy can be used in lieu of a dive flag. The dive buoy can have either 3 or 4 sides but must display dive symbols. The symbols must be at least 12×12 inches. However, if displaying from a boat you must continue to use a standard dive flag at least 20×24 inches. In open water you must remain within 300 ft. of the dive marker. If snorkeling in a channel you must remain within 100 ft.
Marine life… Some of the inhabitants on local snorkel spots can deliver a painful bite or sting. It is not recommended that any snorkeler try to capture any form of marine life; in state and national parks it is prohibited. Spearfishing may be illegal in some locations, check with local dive shops to determine. The state has several non-take species for spearfishing. Those can be found at http://myfwc.com/fishing/saltwater/recreational/spearing/
As always pay attention to the Beach Safety Flags. These are posted for your safety. "Red" = stay out of the water, conditions are not good; "Yellow" = enter with caution, should be a strong swimmer; "Green" = all is good, enjoy; "Purple" dangerous marine life have been seen in the area – generally these are jellyfish but could mean frequently seen sharks or other hazardous marine life.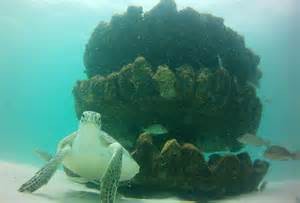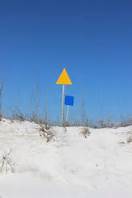 There are a lot of interesting organisms to be found on our local snorkel reefs and it will be a great addition to your day at the beach. With a few behavior changes on your part, and adhering to regulations, the adventure should be an enjoyable and safe one.
0