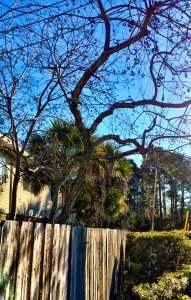 Benjamin Franklin has been blamed for introducing the invasive Chinese Tallow tree to the Southeast when he mailed seeds to a planter after one of his trips to London in the late 1700's. However, recent DNA work has traced the invasive strain to federal scientists' importations in 1905.
No matter. The "Popcorn Tree," as it's also called because of its white seeds, has invaded the Gulf coast from Texas to Florida, especially the wetlands and bottomland forests. A mature tree may produce as many as 100,000 seeds annually. These seeds can be spread by birds or moving water and expedite the trees' takeover of habitat. The sap and berries are toxic to humans and livestock. It has been planted for its red fall color, but it crowds out native wetland species such as black gum and red maple, both noted for their red fall leaves. Its tolerance to flooding and saltwater can also make it a threat to bald cypress.
Recently research by scientists of the US Forest Service and others has shown the dissolved oxygen and pH levels in the leaf litter of the tallow tree are fatal to the early stage eggs of the leopard frog. While tallow trees provide a nectar source for bees and have been investigated as a biofuel source, the damage to wetlands caused by these invaders more than offsets the positive aspects of the plant.
Small seedlings may be hand pulled, especially in wet areas, but care should be taken to leave no root pieces to resprout. Herbicides including triclopyr can control Chinese Tallow. More information is available at http://edis.ifas.ufl.edu/ag148 and http://plants.ifas.ufl.edu/node/676.
For local assistance, contact your county UF IFAS Extension office.
0