Now that we have completed National Invasive Species Awareness Week many readers have learned what NOT to do with their unwanted exotic pets… but what DO you do with them? Here are six simple suggestions for you to consider. Many professional herpetologists suggest similar options.
Keep it This may sound a bit strange but it is actually an option. Many who purchase an exotic pet do so without the understanding of how large they may get, or expensive they are to maintain. However if the owner does a little homework you may be able to design, or purchase, a enclosure for your pet that will make them more comfortable, easier for you to handle, and less expensive to maintain.
Find a new home This is the most popular option. Listing the animal on the internet or in the local paper may yield a person very interested in having and properly maintaining it… a win-win for all. Other options can include nature centers and schools where education on invasive species may find a place that needs and wants the animal. There are rescue groups for specific species which can be found on the internet.
Return to the pet store Many pet stores will take pets they have sold back for resale. This is certainly a better option than releasing it but pet owners should understand that they will probably will not get their money back.
Contact your local animal control office Our local animal control will not take exotic pets but some may, and most can, provide good advice as to local locations that may be interested in it.
Contact your local state wildlife agency Most state wildlife agencies are very familiar with non-profits, nature centers, and other locations that will accept exotic animals. In Florida the Florida Fish and Wildlife Conservation Commission offer

Amnesty Days

where residents can bring their unwanted exotic pets to a central locations; FWC will then try to find them a new home. To find the nearest Amnesty Day to your home visit the FWC website at MyFWC.com.
Euthanize Though for most pet homeowners this is not an option, for some it may be their only option. If you do plan to euthanize your pet you should do so only with a certified veterinarian.
Whichever option the pet owner chooses, releasing them into the wild is NOT a good option. In addition to being against the law it could be lethal for your pet or, if they do survive, economically or environmentally catastrophic for your community.
These ideas and suggestions were provided by Dr. Steve Johnson, University of Florida Department of Wildlife Ecology, and the Southeast Partners in Amphibian and Reptile Conservation. For more information on what to do with unwanted exotic pets please visit their websites.
Fight Panhandle invasive species by visiting our action articles.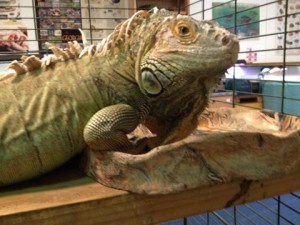 0