Making the Big Sabine hike on Santa Rosa Island in February was COLD! A front had pasted over the day before and temp was in the 30's with a north wind. But the sky was a beautiful blue and the Gulf was calm and clear.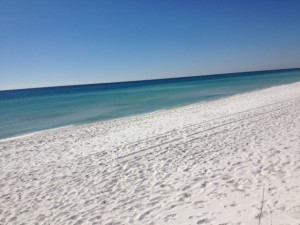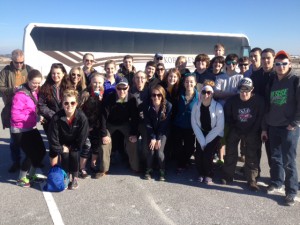 Joining me on my hike this month was the Wildlands School from Wisconsin. They were visiting the Gulf Coast working on a variety of projects and wanted to learn more about coastal ecology… so I brought them along. Because of the drop in temperature we did not see much wildlife. In January I saw very little other than birds. In February we saw few birds… it was really cold. As we hiked from the Gulf to the Sound we discussed barrier island and dune formation and showed many of the plants common in the different dune fields we mentioned in our January issue. Most were brown in color but there were a few evergreens and we even had one secondary bush blooming! Beach Heather (Conradina canescens).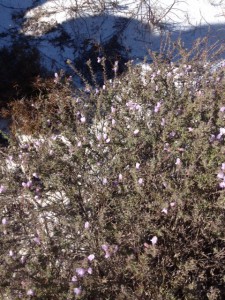 We did see a few mammal tracks and had a chance to discuss "animal sign" with the students, but no live animals were seen. The kids from Wisconsin were introduced to cactus (literally… many had it on their shoes) as we walked through the maritime forest and I had a chance to explain the xeric conditions found on our barrier islands and how this favored particular plants and animals. While in the maritime forest we also came across an old aquaculture facility and this gave me a chance to discuss this industry as well. But for me the most interesting discovery in the maritime forest was a "drag-line" that I had found in January near one of the ponds. As we walked past this area again – it was there again and seemed to be "fresh" (recently made). I am not sure what makes these drag marks – have a few guesses – but am hoping to discover the source before the end of this series.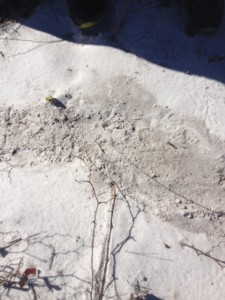 Despite the north wind the Sound was calm and clear. Most of the marine creatures had moved into deeper-warmer waters but we did find a dead cannonball jellyfish. The students from Wisconsin got a chance to hold the slimy creature and we discussed how the stinging cells (nematocyst) work. These small cells on the tentacles of jellyfish have a triggering mechanism that is actually discharged by the object that touches it… the jellyfish does not do this. Once the trigger is moved a dart with a drop of venom is discharged into whatever triggered it. Several of these firing at once is what causes the pain we feel, or the death of a small fish. They were also excited to discover a primitive camp site that locals use. I explained the correct protocol for doing this and hope that locals do the same.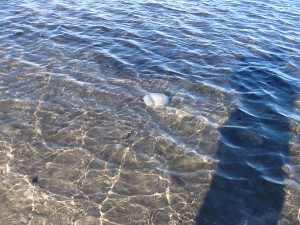 Though there was not a lot of wildlife to view in February but the beach is absolutely beautiful this time of year. The sunrises and sunsets are amazing. I encourage local "panhandlers" to visit your local island and take a long walk. I think you will enjoy it.
0