Few things move a local homeowner into action faster than a big storm moving into the Gulf of Mexico. After filling up at gas stations and running out to home improvement stores, many start trimming limbs and removing trees.
The destructive tornadoes in the Midwest this spring may cause anxiety about having mature trees in a yard. It is true that falling trees and limbs can cause damage to a home and property. However, it is wise to look closely at a landscape before making a permanent decision. It's also important to do this before the stress of a looming storm is at hand. Trees are very important for providing shade (i.e. energy savings), wildlife habitat, storm-water management, and maintaining property values.
University of Florida / IFAS researchers have done long-term studies on the effects of wind on trees and landscapes, and several important lessons stand out. Keep in mind that reducing storm damage often starts at the landscape design / planning stage!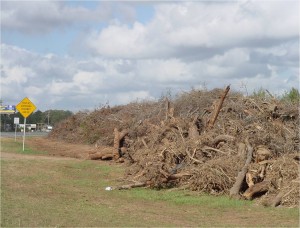 Below are several tips for protecting your home and landscape in case of a storm.
Plant high-quality trees with single trunks and strong branches. Branch attachment angles can affect whether a large branch will split from a tree. Branches angling straighter out from a tree (wide angles) are stronger than those pointing almost directly up (tight angles).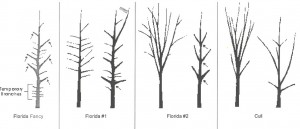 Trees that have had regular pruning are less likely to fail than neglected trees. The UF horticulture website has detailed information on correct pruning, or you can contact your County Extension Agent for tips.
Post-hurricane studies in North Florida show that Live Oak, Southern magnolia, Sabal Palm, and Bald Cypress stand up well compared to other trees during hurricanes. Pecan, Water and Laurel Oak, Carolina Cherry Laurel and Sand Pine were among the least wind resistant. UF has a list of trees and their hurricane endurance based on a study conducted after the 2004 hurricane season.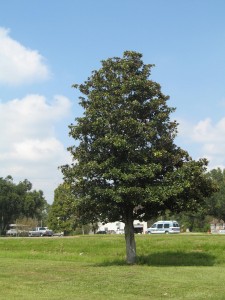 Plant a variety of species, ages and layers of trees to maintain diversity in the yard and neighborhood.- Trees with decayed trunks are very dangerous in winds. Disease causing decay can come up from the roots or enter through improper pruning cuts. Remove hazard trees before the wind does. Have a certified arborist inspect trees for signs of disease and decay. They are trained to provide advice on tree health.
Watch pines carefully. Sometimes there is hidden damage and the tree declines over time. Look for signs of stress or poor health, such as unusual dark stains or small holes on trunks, dropping leaves, or piles of sawdust at the tree's base. Check closely for insects. Weakened pines may be more susceptible to beetles and diseases. Long-leaf pines often survive storms in our area better than other species.
Trees in a group (at least five) blow down less frequently than single trees.
Trees should always be given plenty of room for roots to grow. Roots absorb nutrients, but they are also the anchors for the tree. If large trees are planted without enough space for roots to grow out in all directions, there is a likelihood that the tree may fall during high winds.
Construction activities within about 20 feet from the trunk of existing trees can cause the tree to blow over more than 10 years later.
When a tree is removed or dies, plant a new one in its place.
0