There are a couple of possibilities for gardeners who are looking for something a little different than the old favorite French hydrangea. If you want to make your neighbor's and gardening friends envious, consider adding one of the following selections to your garden.
The first to consider is the 'Limelight' hydrangea (Hydrangea paniculata) which is a hardy shrub and performs well in sunshine. New leaves emerge each spring and large greenish-white blooms emerge in the summer. Blooms may offer a color change into the fall, adding a delicate pink shade. This hydrangea should definitely be installed where it can be viewed and can grow 6-8 feet in height with a similar spread. Once established, it can be tolerant of some drought but will require moisture during extended dry periods.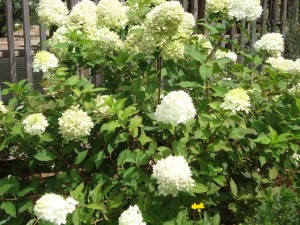 If you have a garden with more dappled shade, the 'Fuji Waterfall' hydrangea is a good selection. This hydrangea will require a soil with more consistent moisture and will offer interesting lacecap blooms that appear to cascade over the dark green leaves. Growth will have a layered look with plants reaching about 3 to five feet in height.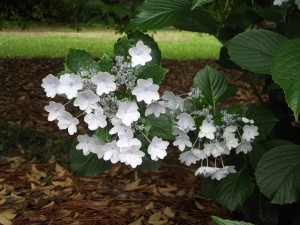 For more information on newer selections of hydrangeas for our climate visit the University of Florida publication New Hydrangeas for North and Central Florida: Bigleaf and Mountain Hydrangeas
0