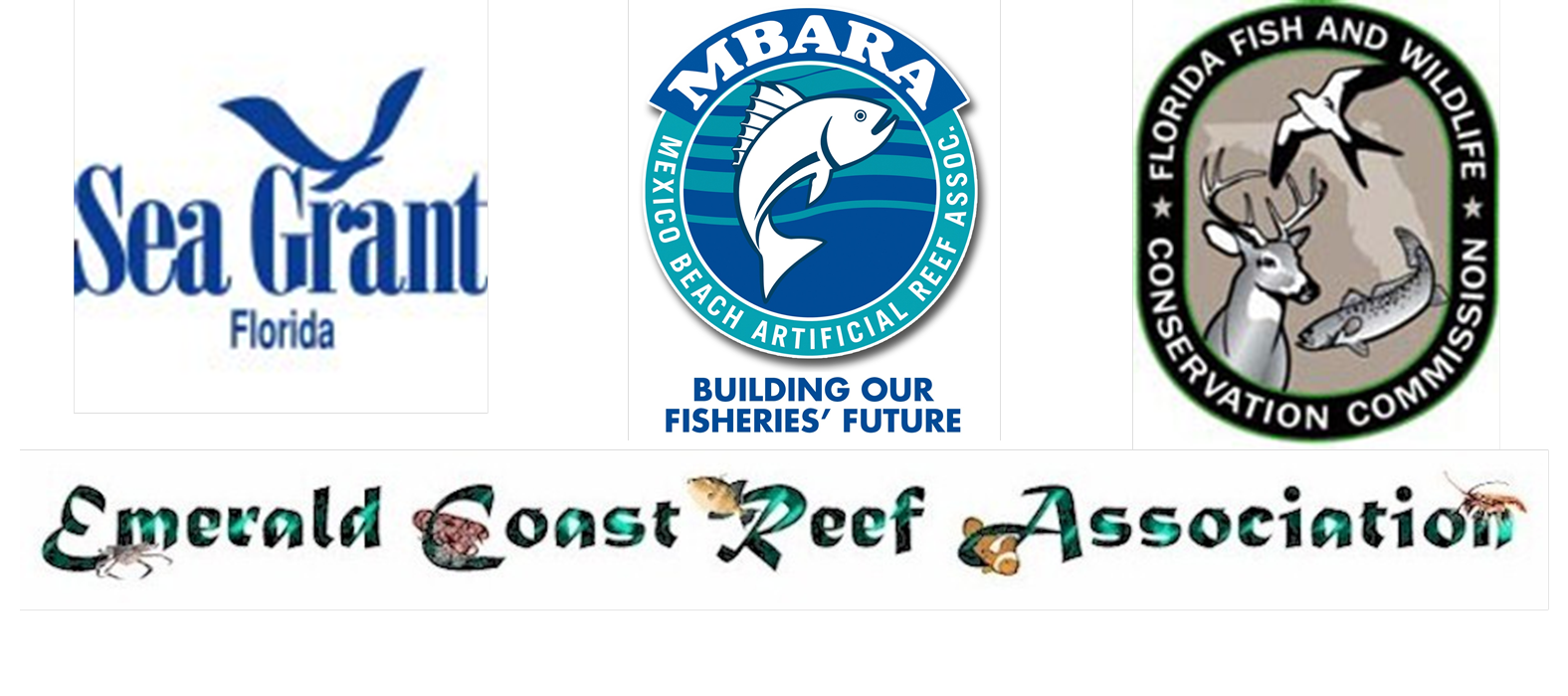 An exciting new event is coming to our area. Northwest Florida's first Artificial Reef Workshop since 2006 will be held February 19 – 20, 2013 at the Niceville Community Center. The community center is centrally located in the Panhandle and located at 204 N Partin Dr, Niceville, FL 32578. Sessions and guest speakers will provide the latest information regarding Reef Designs, Artificial Reefs and Fisheries Management, Monitoring Tools, Artificial Reef Construction Issues in Inshore and Nearshore State Waters, The Economic Benefits and Impacts of Artificial Reefs in NW Florida, and other artificial reef topics of local interest.
The evening of February 19th there will be an Evening Expo. At this Expo booths and information will be provided by the Mexico Beach Artificial Reef Association, Emerald Coast Reef Association, Florida Sea Grant, Florida Fish and Wildlife Conservation Commission, local county reef coordinators, and a variety of vendors highlighting their activities and innovations over the last six years. This event will run from 6:00 – 8:00 PM.
The cost of the 2-day workshop is $40, and this includes meals and refreshments. The Evening Expo is free.
To register for either the Workshop or Expo please visit: http://2013nwfarworkshop.eventbrite.com
Workshop organizers are seeking additional vendors, sponsors, and/or donations of promotional items. Showcase your business to federal, state and local government, local reef building associations and private reef builders. If you would like to participate as a vendor or contribute as a sponsor please contact Candy Hansard by email candy@ecreef.org or call Scott Jackson at 850-784-6105 to check for space availability. Space is limited, please act soon.
Note: Previous advertised date of workshop has been changed to avoid potential schedule conflict with Gulf Council Meeting.
Sessions and quest speakers will discuss subjects including reef design, fisheries management, monitoring, goals and strategies, construction issues in state waters, economic benefits and impacts, and other topics of interest.
Normal
0
false
false
false
EN-US
X-NONE
X-NONE
/* Style Definitions */
table.MsoNormalTable
{mso-style-name:"Table Normal";
mso-tstyle-rowband-size:0;
mso-tstyle-colband-size:0;
mso-style-noshow:yes;
mso-style-priority:99;
mso-style-qformat:yes;
mso-style-parent:"";
mso-padding-alt:0in 5.4pt 0in 5.4pt;
mso-para-margin-top:0in;
mso-para-margin-right:0in;
mso-para-margin-bottom:10.0pt;
mso-para-margin-left:0in;
line-height:115%;
mso-pagination:widow-orphan;
font-size:11.0pt;
font-family:"Calibri","sans-serif";
mso-ascii-font-family:Calibri;
mso-ascii-theme-font:minor-latin;
mso-fareast-font-family:"Times New Roman";
mso-fareast-theme-font:minor-fareast;
mso-hansi-font-family:Calibri;
mso-hansi-theme-font:minor-latin;}
0