Time Saving Tips for the Kitchen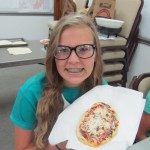 My husband calls me the one-trip-wonder because of my stubborn refusal to make more than one trip in from the car regardless of the size or number of items needing to be carried in.  I know he thinks I'm crazy, but really, who has time to make 27 trips from the car to the house?  I guess it's that same "who has time for this?" mentality that has also caused my friends to deem me the one-pot-wonder. Truly, if I can get it all in one pan, that's less dishes I took the time to dig out, and certainly less to wash and put back. Love it!
So, perhaps that's why I feel uniquely qualified to share a few recipes with you that should help you manage your time in the kitchen during this hectic time of year.  Don't worry.  These are not one-pot-wonder recipes.  You will need to dig out an extra pot or two for veggies – canned, fresh, frozen – you're choice.  But even with the extra dishes, the time these recipes save at the grocery and in the kitchen will totally be worth it.
Bonus recipes: Great for potlucks, parties, and guests.
Printer Friendly Version: All Recipes Included
I hope you enjoy these recipes and their accompanying time-saving tips. But my greatest advice to you is to think of the dishes your family loves most and look for faster or easier ways to make them on busy nights. I don't really cook like this all the time, but there are nights when I'm moving so fast I could leave Rachel Ray in the dust. When you have to, do it and don't feel guilty. When you don't, call the kids in and make meal prep a leisurely, family affair. It's all about the ever-elusive balance we all seem to be looking for. Truthfully, we're cooking like this because we care about our families. We want them to have hearty meals and time to enjoy them together. Sometimes, getting them turned out a little quicker is all that stands between us and letting that happen.  If you have other tips or recipes you'd like to share, please feel free to leave them in the comments.If you have a passion for culinary arts, consider sharing your love with the youth in your community. Contact your local 4-H Extension Agent today, and see how you can help him/her make a difference in the lives of young people.