Sometimes when we talk about the size of things we like to estimate and don't worry too much about being precise, but there are times when as little as a half inch really is a big deal. When talking about landscape maintenance and pest management that half inch can be crucial.
Here are three examples of when less than an inch may be significant.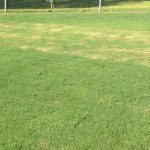 Mowing your turf. If you read Mowing Matters last month, you saw mowing height recommendations for common turf types grown in north Florida. We gave a range of heights, but besides referring to the handy chart, you need to pay attention to your specific site. If you begin to mow and the current setting is too low, shut down the mower and adjust the height.
In this picture you can see that just raising the deck up one-half inch prevented the entire yard from being scalped and put under additional stress. After less than a week of proper irrigation the scalped area recovered and the yard looked uniform to casual inspection.
Treating Mole Crickets. The common knee-jerk reaction to seeing adult mole crickets during a mating flight is to treat the lawn. However, when you see the adults they are past the stage of being susceptible to most pesticide treatments. It is also too early to target the next generation – after all you are witnessing mating flights, so time is needed for egg maturation, hatching, and nymph development and feeding before treatment will be effective. Depending on several factors such as temperature and soil moisture nymphs will become active anywhere from 2 weeks to 2 months after adults are seen.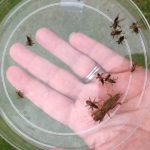 Before applying any pesticides, be sure to scout for appropriate life stage (nymphs approximately ½ inch long) and action thresholds of mole crickets by performing a soap flush (details can be found here Mole Cricket IPM Guide for Florida).
Turf Irrigation. It is important to calibrate your irrigation system and make sure that each turfgrass zone is putting out a minimum of one-half inch of water uniformly.
Why this amount? Research has shown that in most Florida soils application of one inch of water will reach the top twelve inches of soil. Healthy turfgrass roots are typically found in the top 4-6 inches of soil, so by applying one half-inch of water per irrigation cycle you should deliver water to turf roots.
To see an example of how to calibrate your system watch this short video demonstration by Dr. Laurie Trenholm, UF/IFAS Turfgrass specialist.
0