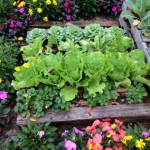 You may have heard "group plants with similar needs together" but struggled to come up with some combinations that work. The most important things to consider when creating functional garden space is the cultural needs of the plants you want to combine. Sunlight, water, and fertilizer needs should be very similar when planting multiple plants together. For fall and winter gardens, choose annuals that are frost tolerant and/or evergreen perennials.
Here are some plants that work well together in cool weather:
Strawberries and romaine lettuce – both are cool season annuals that can be planted in late October or early November. The lettuce can be harvested from outside leaves after growth begins or let it form a head and cut the entire plant. Strawberries will spread out but remain fairly low growing compared to the upright lettuce. These plants combine well in a container if given room to expand.
Rosemary and oregano – these culinary herbs thrive in sunny, well-drained spots. Rosemary is an upright woody perennial and oregano spreads along the ground making a fragrant groundcover for a tough spot.
Snapdragons, pansies, and parsley – this combination gives foliage contrasts in addition to colorful flowers. This combination will work in full sun or a slightly shaded spot in the garden. In the spring, replace the snapdragons and pansies for warm season annuals for continued color.
Cabbage, cauliflower, and strawberries – all cool season edible crops that have attractive foliage and similar needs.
Snapdragons, violas, and petunia – this colorful combination has three height levels of tall snaps, bunching violas, and trailing petunias.
To learn more about these plants and other options Growing Strawberries in the Florida Home Garden, Herbs in the Florida Garden, and Gardening with Annuals in Florida.
0