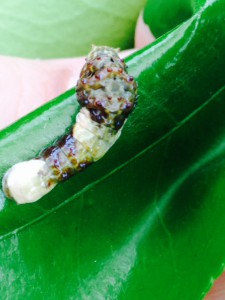 Adult butterflies are pretty easy to attract to your landscape if you provide flowering plants, but getting them to lay eggs in your garden is a little trickier.
Butterflies go through complete metamorphosis which means that they have four main life stages. The first is the egg, second they hatch into caterpillars (larvae) which feed and molt many times, the third stage is the pupa or chrysalis, and finally they emerge as colorful adults. Complete metamorphosis is considered a more advanced life cycle than incomplete and one of the reasons is because most insects that go through this process do not compete for food at different life cycles. For example, the gulf fritillary butterfly larvae needs passionflower (Passiflora spp.) to feed on – no other plant type will do. The adults visit many flowering landscape plants such as zinnias, butterfly bush, pentas, etc. The adults are feeding on nectar while the caterpillars are eating foliage.
Because the larvae are very host specific, you must offer the correct plant to attract particular butterflies. Luckily, we have many options in the Florida panhandle! Just remember if you would like to attract butterfly breeding to your yard, you must sacrifice some foliage to support the caterpillars.
• Gulf Fritillary – Passionflower
• Monarch – Native milkweed
• Giant Swallowtail – citrus
• Eastern Black Swallowtail – plants in the carrot family including dill, celery, fennel, and parsley
• Tiger Swallowtail – sweet bay magnolia, tulip poplar, black cherry
• Zebra Swallowtail – pawpaw
• Luna Moth – walnut, hickory, sweetgum, persimmon, winged sumac
If you would like to know more about individual butterfly species please visit UF/IFAS Entomology & Nematology's Featured Creatures website.
0