Discovering Florida's Panhandle – Our Barrier Islands – January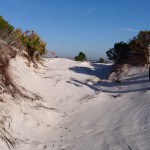 Beginning this month we will be posting a series of natural resource articles high lighting Florida's Panhandle. The photographs and hikes presented in this series are from Escambia and Santa Rosa counties but the same natural places can be found anywhere between the Perdido and Apalachicola Rivers. We hope our readers will visit these places and DISCOVER FLORIDA'S PANHANDLE on their own.  This year we will begin at the Gulf of Mexico and visit our BARRIER ISLANDS. We will visit the same location on Santa Rosa Island in Escambia County each month over the course of a year. During this series we should see how things change each season and learn more about our natural places.
Here is the Gulf of Mexico.  The northern Gulf is primary sand but their are areas of hard bottom that provide habitat for many of our commercial important fisheries.  450 feet off the shore from this photo is an artificial reef placed by Escambia County for residents and visitors alike to explore.  These reefs attract a variety of reef fish and sea turtles and are great for wildlife viewing.  Notice how low the sun is in the sky on this winter morning.  The shortest day of the year was December 21 (when the sun was it's lowest) and will be "climbing" as this series continues.  Many beach residents use this as their clock!
Our barrier islands are considered the "world's whitest beaches" and this is because of the high amount of quartz deposited here.  In this photograph you can see the water is farther from shore than usual.  This is due to the strong north winds blowing water offshore; this happens every winter – but provides feeding opportunities for shorebirds.  The sand fencing is used by many of our counties to "kick start" dune restoration.
Beyond the primary dune on this portion of the island you will find low areas known as swales.  These "depressions" will fill with water during rain events and provide much needed freshwater for the organisms who live out here.  Barrier islands are xeric environments; meaning "desert like" and freshwater habitats are visited by many.  Some of these ponds are ephemeral (meaning non-permanent) and dry up during some periods of the year.