FALL IS IN THE AIR, AND THAT MEANS FOOTBALL…AND CONCESSION STAND FOOD
Whether it is football, baseball or basketball season, they all have one thing in common, concession stands with their unhealthy food options. During a regular season, foods that are available in concession stands may be the only mealtime option for busy families and their athletes. Often, due to time and convenience, fans rely on the items that are sold at the concession stand for their families' dinners.
On average, 73% of foods that are available in concession stands contain too much sugar, sodium, fat and calories. Although athletes may be burning calories on the field, eating unhealthy foods after a game may do more harm than good, leading to unbalanced diets consisting of too many calories, fat, and sugar.
BARRIER TO CHANGE:
The fear of lost revenue is perhaps the biggest obstacle to improving the nutritional value of concession stand foods. Traditionally, snacks and beverages sold in concession stands help generate crucial income for team essentials that are not covered by ever declining school sport budgets. There is a common misconception that healthy foods are more perishable and expensive, making booster clubs wary of tinkering with this critical revenue source.
SIMPLE SOLUTIONS THAT WORK
Small, simple modifications can be made to popular and profitable concession menu items without giving up revenue, or customer satisfaction. Therefore, a total menu overhaul is not necessary. Menus can be altered simply by adding 5-10 new healthy items and replacing unhealthy ingredients in existing menu items.
MARKETING A HEALTHY CONCESSION STAND:
According to E. Jerome McCarthy the "4 P's of Implementation" can be an effective tool to market the healthier food and beverage options that are available to consumers. These strategies can help generate the profits that are essential to a team, without decreasing customer satisfaction.
4P's of implementing a Marketing Plan:
PRODUCT: Offer healthy snacks and beverages options along with existing menu items that are proven to sell. Make small changes to popular menu items to improve their nutritional value. Example: provide whole wheat buns on all sandwiches.
PLACEMENT: Place healthier items at the top of menus or in clear view in order to make more healthful food more prominent and appealing. Example: prominently display healthier snacks in a decorative basket in full view of the customers and put candy behind the counter.
PROMOTION: Promote healthy options by displaying promotional material and menus that promote the healthier choices that are available to families.
PRICE: Make the healthier options more affordable than the unhealthy options-creating a cost-neutral outcome for the booster club. Example: price bottled water and 100% juices lower than soda.
Here is an example of a mock menu: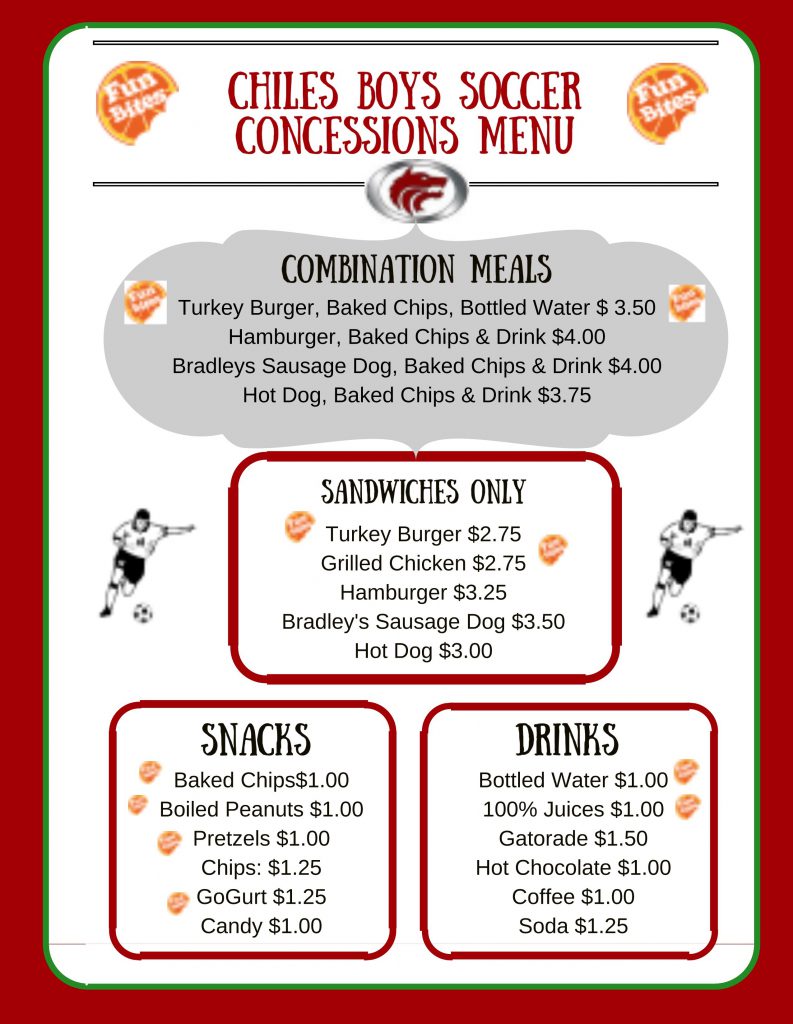 TIME FOR A HEALTHY CHANGE
Concession stands will always be a part of most high school sporting events. Therefore it is time to overhaul concession stand fare. Simple modifications can include offering 5-10 new healthy items along with replacing unhealthy ingredients in popular options without fear of losing sales and customer satisfaction.
WANT MORE INFORMATION?
The Family and Consumer Sciences (FCS) Agent at the Gadsden County UF/IFAS Extension office may have more information on food labeling or classes for you to attend. Also, a registered dietitian (RD) can provide you with reliable information.
REFERENCES:
Journal of Public Health (2014, March 12) Laroche, H., Ford, C., Hansen, C., Cai, X., Just, D., Hanks, A., & Wansik, B. Concession stand makeovers: A pilot study of offering healthy foods at high school concession stands.
Castle, J. (2015, July 14). REAL MOM NUTRITION BLOG: It's Time to Build a Healthy Concession Stand – Jill Castle. http://jillcastle.com/young-athletes/build-healthy-concession-stand/
US News and World Report: June 29, 2012. Retrieved from http://health.usnews.com/health-news/news/articles/2012/06/29/young-athletes-face-unhealthy-food-choices-parents-say
FOOTNOTES
Laurie B. Osgood, Family and Consumer Sciences Agent, Gadsden County Extension, UF/IFAS Extension, Quincy, FL 32351 (850) 662-3287 Osgoodlb@ufl.edu
The Institute of Food and Agricultural Sciences (IFAS) is an Equal Opportunity Institution authorized to provide research, educational information and other services only to individuals and institutions that function with non-discrimination with respect to race, creed, color, religion, age, disability, sex, sexual orientation, marital status, national origin, political opinions or affiliations. For more information on obtaining other UF/IFAS Extension publications, contact your county's UF/IFAS Extension office.
U.S. Department of Agriculture, UF/IFAS Extension Service, University of Florida, IFAS, Florida A & M University Cooperative Extension Program, and Boards of County Commissioners Cooperating. Nick T. Place, dean for UF/IFAS Extension.
0