I am not going to lie… I skipped August… It was hot…
September however was nice. The day I made the hike the skies were clear and the temperature was 75°F! wonderfully… truly wonderful.
If you are like me you probably begin your day around the same time – and have probably noticed that it is darker when you get up. September 22 is the fall equinox and the length of our day will be exactly 12 hours of daylight and 12 hours of darkness. We then enter the "dark side" of the calendar year – the days will become shorter… and already have. As we move into autumn on our beaches we will notice some changes. One, fewer visitors, but we will also notice changes in wildlife.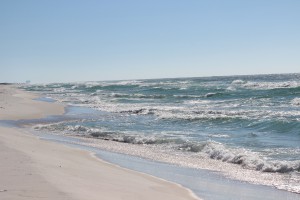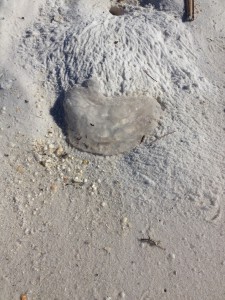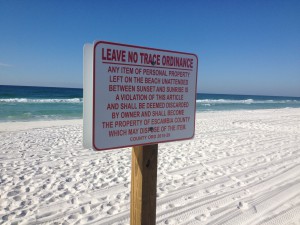 As you can see in the photograph the scarp of the shoreline is becoming more pronounced. As the sun begins to spend more time below the horizon the winds shift, the waves change, sand is moved more offshore and the shape of our beach changes as well. You may have noticed the purple safety flags have been flying a lot recently. These mean "dangerous sea life" and we have been seeing a lot of jellyfish as the summer comes to a close. Today I noticed a lot of ghost crab holes. These guys are always around but their presence seems more noticeable this time of year – possibly due to more available food. Over the last six months I have been working with CleanPeace and the Escambia County Division of Marine Resources monitoring marine debris. Our objective is to determine what the major local debris issues are and develop an education program to try and reduce these problems. Cigarette butts have been consistently the #1 item since January. Many of you probably remember the "Keep Your Butt off the Beach" campaign a few years back… apparently did not worked well. We will have to educate locals and visitors to please take their cigarette butts with them. For those in Escambia County you will now notice the new Leave No Trace signs. The Escambia County Board of County Commissioners passed a new ordinance this past month that requires all residents and visitors to remove items from the beach overnight. Not only have these negatively impacted nesting sea turtles they have become a hazard for evening work crews and the general public. Most panhandle counties have some form of "Leave No Trace". Please help educate everyone about their ordinances.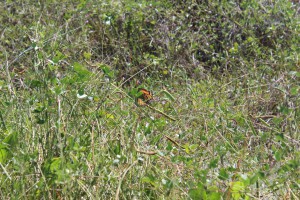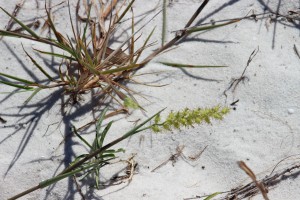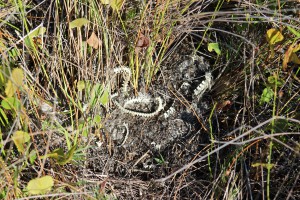 Fall is the time of the monarch movement. Typically they begin to show in numbers after the equinox but we did see a few on the island this week. Be ready, next month should be full of them. The sandspurs were beginning to develop their spiny seed pods. I would caution all to check their shoes and clothing before leaving the beach this time of year to avoid carrying these seed pods home and distributing them in your yard… uncool.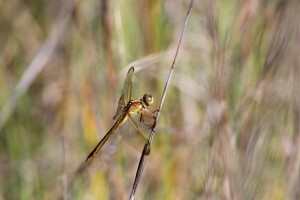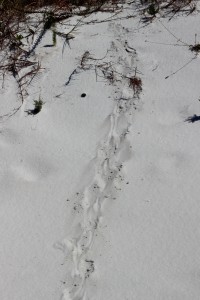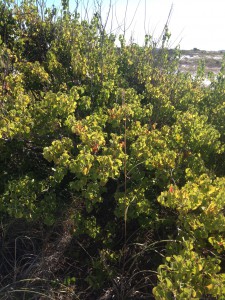 We did see evidence of snake movement this week. There are several species, including the Eastern Diamondback Rattler, which will breed in the fall as well as the spring. I expect to see more activity as the days grow shorter. The dragonflies were very active this month. Actually my wife witnessed two of them consistently pestering a monarch butterfly until the butterfly moved away. I have seen armadillo activity every month of the year so far, this month was no different. The islands seem full of them. This lone Chinese Tallow has formed a small dune where other plants have established and many creatures have taken up residence. At this time there are no other Tallow in the area, and this one will need to be removed before the spread begins. But it is an interesting paradox in that there was an armadillo burrow found here and the sea oats have utilized this dune as well. Invasive species are a problem throughout the state and many have caused with economic or environmental problems – or both! Though this tree has participated in establishing a much needed dune on our hurricane beaten island – native plants do the same and should be favored over non-native. We will have to remove this tree.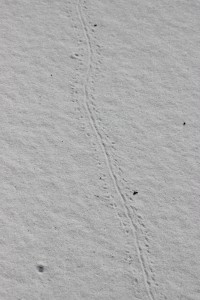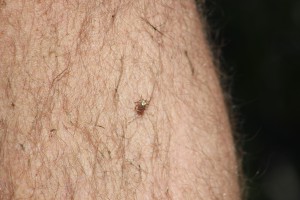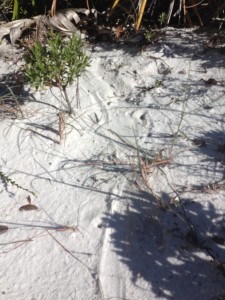 This small track has the appearance of a "turtle crawl". It certainly is not a sea turtle, in the middle of the dune field for one thing, but there are several freshwater ponds on our islands that harbor a variety of "riverine turtles". I know that Cooters, Sliders, and Snappers live on Santa Rosa Island. Terrapins are found in salt marshes. Not sure if this is a turtle but all should be aware that now is hatching time. Many turtle nests began hatching about a month ago and young turtles can be found in a lot of locations. The track in this picture is from a very small animal.
Ticks… yep ticks… It is hard to do a lot of fun outdoor activity in the southeast without encountering these guys. They like to sit on top of tall grass and wait for a mammal to come rummaging through. After each hike we always do a "tick check". I typically wash my hiking clothes AS SOON AS I GET HOME – in case they are harboring within… I would recommend you do the same. We have been following the "mystery track" since January. This "bed" we have seen each month is in the same location. I thought I had solved the mystery in July when I found armadillo tracks all around it but this month suggest this is not an armadillo. We are not sure what it is – we are leaning towards alligator or otter (both of which can be found – and have been found – on our islands). We will continue to monitor this and hopefully find the sculptor.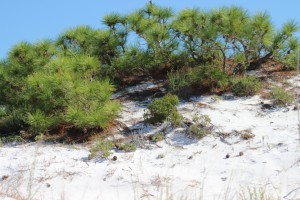 The seagrass in the sound looked very thick and healthy this month. I have seen horseshoe crab here over the summer and Sea Grant conducted a scallop survey in Santa Rosa Sound and Big Lagoon within Santa Rosa and Escambia counties in August. We found no live scallop but plenty of dead ones – and some of that shell material was relatively "new". Since scallops only live a year or two this is a good sign. There has been plenty of anecdotal evidence of live ones in the area. REMEMBER THAT IT IS ILLEGAL TO HARVEST SCALLOP WEST OF PORT ST. JOE AND ONLY FROM JUNE 27 TO SEPTEMBER 24 (Learn More). We will continue to conduct these surveys each summer to determine if our area would be a good candidate for a scallop restoration project.
As the days shorten and cool – I am expecting more wildlife activity to begin. Until next month.
0