Encroaching brush, whether native or invasive, can be a problem for properties large and small. Fighting woody brush and other hard-to-kill weed species can be challenging for property owners. Many factors affect the effectiveness and efficiency of control efforts.
Timing of the application is a key factor that many property owners fail to consider. The cooler, fall and winter months are an excellent time to control a wide variety of troublesome brush species. With this in mind, the Washington County Extension Agents will be presenting a class, Controlling Brush & Invasive Species on November 9, 2017. The class will focus on plant identification and specific chemical control strategies that are effective in the fall and winter months. Herbicide selection and application techniques will be addressed in detail.
Controlling Brush & Invasive Species will be held at the Washington County Agricultural Center (1424 Jackson Ave., Chipley, FL) on Thursday, November 9, 2017 at 6:30 in the evening. Refreshments and printed reference materials will provided. There is a $5 registration fee for the class, payable at the door. Advanced registration for the class is appreciated. If you have questions or would like to register please contact Mark Mauldin at the Washington County Extension Office (850-638-6180 or mdm83@ufl.edu).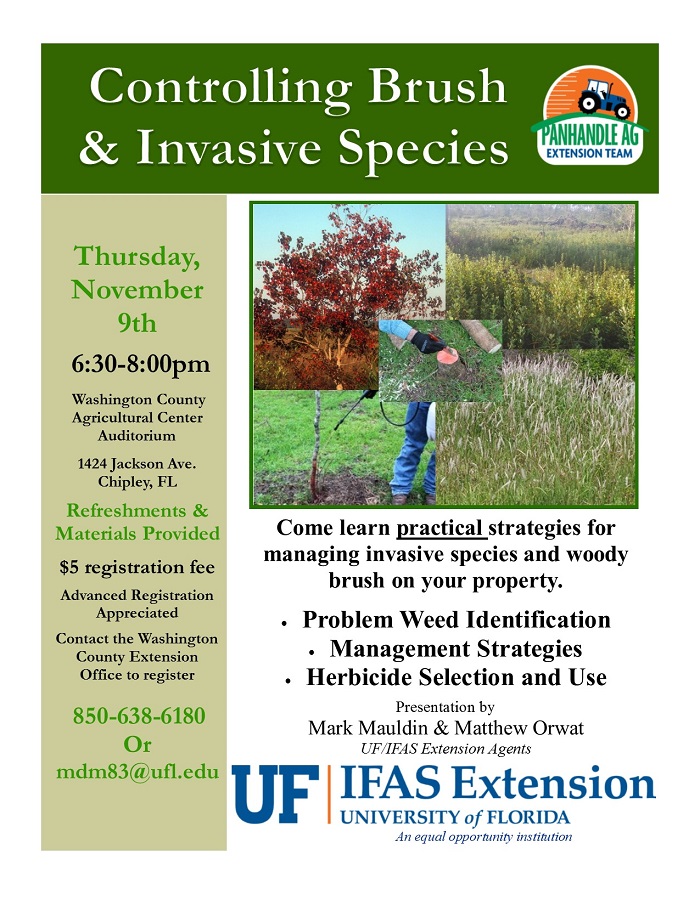 0