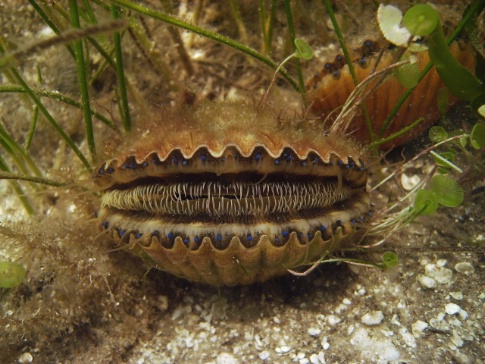 If you had plans to go scalloping in St. Joseph Bay over the long holiday weekend I'm afraid you are going to be disappointed. FWC has postponed the opening day of scallop harvesting season in St. Joseph Bay until August 22.
The postponement, along with other conservation efforts, is intended to provide the scallop population in St. Joseph Bay additional time to recover from the effects of the Red Tide event we experienced last fall. Scallop season in St. Joseph Bay will start later, end earlier, and have tighter bag limits than the rest of the Bay Scallop Harvest Zone – "the Pasco-Hernando County line (near Aripeka – latitude 28 degrees, 26.016 minutes North) to the west bank of the Mexico Beach Canal in Bay County (longitude 85 degrees, 25.84 minutes West)"(FWC). Below are several figures regarding the 2016 Bay Scallop season in St. Joseph Bay. All of the figures are courtesy of FWC.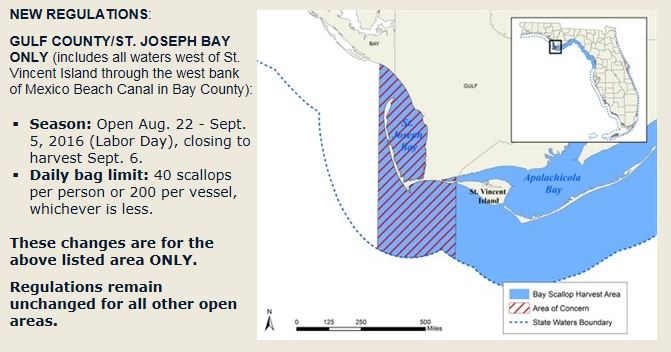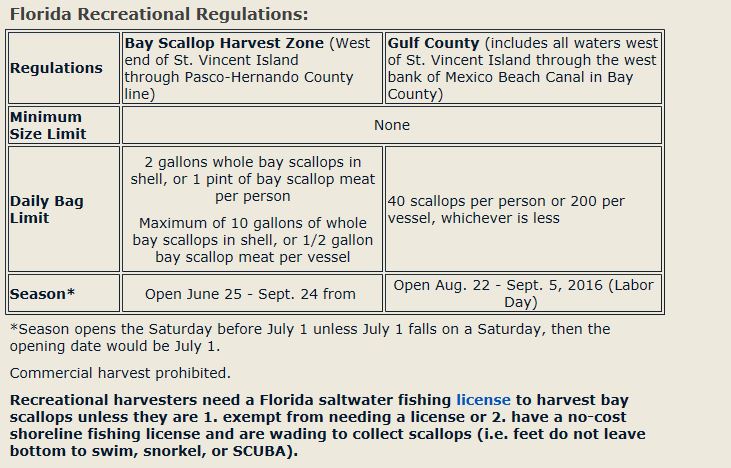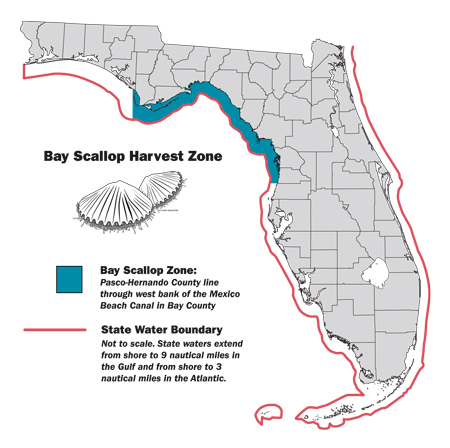 Here's the bright side, even with scalloping on hold for a while, here in NW Florida we have tons of other opportunities for fun on the water. If you were ready to go scalloping then you likely already have a saltwater fishing license, a boat, and a family that is ready to go have fun. You can still put all of these to good use – go fishing.
One of the most attractive aspects of scalloping is that it is, quite frankly, easy. It's fun for the whole family, even those with shorter attention spans. Fishing can be easy too, if you target the right species. When looking to entertain the family don't think about trying to catch the trophy that will be the envy off all your friends, think about fish that are easy to find and eager to bite. The following are a few species to target that I think fit this scenario nicely.
Sand Perch – If you are dealing with anglers that are very inexperienced and casting is an issue Sand Perch are an excellent option. They prefer deeper bay waters with sandy bottoms. The deeper water allows for bait to be dropped vertically, no casting necessary. ½ of a live shrimp on a #2 or 1/0 hook with enough weight to get to the bottom, is all you need. These little guys bite very aggressively and generally when you find one there will be many more in the area. If you want fish for supper, Sand Perch taste very good but the smaller ones have very little meat.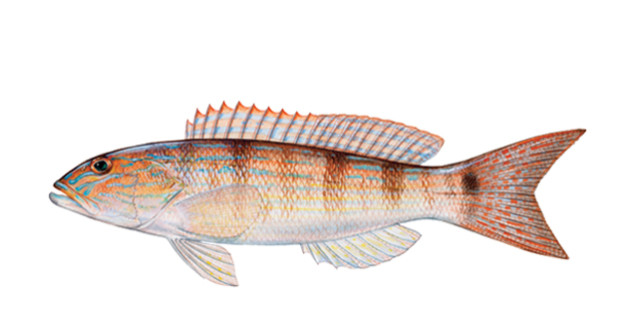 Ladyfish – The "poor man's tarpon" is often found over the same flats where you would go to find scallops but likely in slightly deeper water. These acrobatic fish will readily eat a wide variety of offerings, anything resembling a shrimp or bait fish (live or artificial), as long as it is moving up in the water column, not lying on the bottom. Ladyfish generally travel in schools and put on quite a show when hooked. Unfortunately, they are generally considered unfit to eat and they have a nasty habit of defecating when they are lifted from the water. (When I hook one I generally fight it to the boat, then give it some slack line which it will use to sling the hook from its mouth, thereby avoiding having to lift the fish from the water and the subsequent mess.) Mess aside, these fish are really a lot of fun to catch.

Spotted Sea Trout – A game species that is highly regarded throughout the coastal waters of Florida that is almost two fish in one. Big, "gator" trout are widely sought by anglers and can be very difficult to catch; that's not the fish we're after here. Juvenile trout are much easier to catch than their more mature counterparts. A live or artificial shrimp drifted under a cork over seagrass beds is a simple but very effective recipe for catching trout. Most "serious" anglers will leave an area when they start to catch "shorts", that's exactly where you want to be for lots of fast paced action. Just because they are small doesn't mean they are not fun to catch. A couple of things to remember with trout; 1) they are a regulated species so make sure you know the rules if you are planning on keeping fish, 2) they are fairly fragile fish and should be handled gently with wet hands and returned to the water quickly. Visit catchandrelease.org for additional fish handling tips.

There are many other species that I could have mentioned; catfish, bluefish, blue runners, and even pin fish can all help make for a day on the water fun for the whole family. It's all about mindset, look for lots bites and bent poles not trophies. Don't let the delay of scallop season delay your family's fun on the water this summer – go fishing.
0