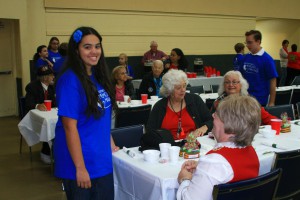 There are many genetic traits you're born with that can't be changed. But what about traits such as compassion and empathy? Can they be learned? A new study conducted by the University of Wisconsin-Madison shows that adults can indeed be trained to be more compassionate and empathetic. But rather than wait until adulthood to grow this trait, youth involved in 4-H have the opportunity to grow compassion beginning as early as five years old. Giving back has long been one of the essential elements of 4-H programs where youth are given the opportunity to practice service to others.
The Fire Ants 4-H Club is one such club in Washington County that gives its members a chance to practice compassion and giving through its service project with Covenant Hospice. For the past two years, the Fire Ants 4-H Club has partnered with Covenant Hospice to provide volunteer services for its clients.
It began with a few members and parents volunteering to make a meal for a client. Last year, club officers applied for a Florida 4-H Foundation Community Pride grant to grow their efforts with the purpose of providing healthy, home-cooked meals for Hospice clients. Members and parents spent a day preparing and cooking made-from-scratch meals and then portioning them into individual serving containers. Over 100 individual home-cooked meals were frozen and delivered to clients. Members have also served at the past three annual Covenant Hospice banquet that honors patients and caregivers.
Community service has the ability to become life changing not just for those receiving the service but especially for the youth involved. 4-H'ers are learning through hands-on experiences that they can make a difference and that their efforts are important. Getting involved in a cause or effort that matters to youth helps develop skills and experiences that carry over into adult life and cultivate a sense of compassion for the world in which they live. If we grow youth who are more compassionate and empathetic, what does that potentially mean for our world? We are more likely to have youth who are socially responsible, who have a heart for giving back and helping others, who have positive relationships with peers and adults, who have improved communication and critical thinking skills and go into careers that feed their passions and interests.
What will you do in 2016 to grow compassion?
For more information on 4-H clubs in your county, or if you're an adult who wants to work with youth to help them grow compassion and empathy to make help your community thrive, contact your local UF IFAS County Extension Office or visit http://florida4h.org.
0