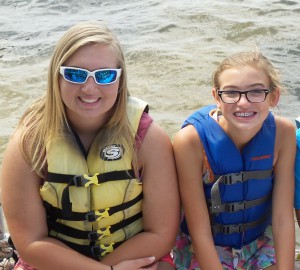 Like Dr. Seuss said, "It's fun to have fun, but you have to know how." With over 11,000 miles of rivers, streams and waterways, 4,136 miles of beaches, coastlines, and shorelines, and 4,308 square miles of total water area, Floridians can enjoy time on the water year-round. Whether you're out cruising the river, fishing for Red Snapper in the gulf or wakeboarding on a spring-fed lake, you should be thinking about water safety.
The number one rule in boating and water sports safety is to wear a life jacket. According to safetykids.org, 77% of fatal boating accidents were drowning victims, and 84% of those victims weren't wearing life jackets. Florida law states that all children six years of age and under must wear a life jacket, but all youth can benefit from wearing a properly sized, snug fitting U.S. Coast Guard approved life jacket to ensure safety in and around water and while boating.
You might think that life jackets are useful only in rough conditions, but one-half of all water related fatalities happen in calm waters. So, when would a life jacket save lives?
When a boat has capsized in rough water.
When a boat sinks in heavy sea conditions.
When a person is thrown from a boat after a collision.
When an injury occurs.
When a person is tossed into freezing water.
When a person is thrown off balance and into the water fishing.

According to Florida law, youth ages 6 and under must wear a life jacket, but everyone can benefit from wearing one. Photo credit Washington County Extension.

When a carbon monoxide fumes cause unconsciousness.
When a person is unable to swim because of heavy, waterlogged clothing.
To ensure you have a properly fitting life jacket:
Choose a life jacket for your size and weight.
Correctly fasten all straps and buckles.
Hold your arms up in the touchdown pose.
Ask someone to gently pull up on the tops of the arm openings.
Check there is no excess room above the arm opening and to make sure the jacket doesn't ride up over your chin or face.
Remember, fun items like pool noodles, floats and water wings should never be substituted for a well-fitting life jacket. Consider a life jacket like any other piece of sporting equipment that requires maintenance. Check it yearly for wear and tear and for buoyancy, and throw away leaky, faded, waterlogged and misshapen life jackets. Football players wear helmets, drivers and car riders wear seat belts – responsible boaters should wear life jackets.
If you have a passion for fishing or boating, consider becoming a 4-H Sports fishing project leader. We have some wonderful curriculum and resources for volunteers who would like to share their fishing expertise with youth. To find out more, contact your local UF IFAS Extension Office, or visit http://florida4h.org/volunteers.
Your opinion matters! Take this short survey to help us improve our blog: https://ufl.qualtrics.com/SE/?SID=SV_3gtLKjqia3F75QN
0