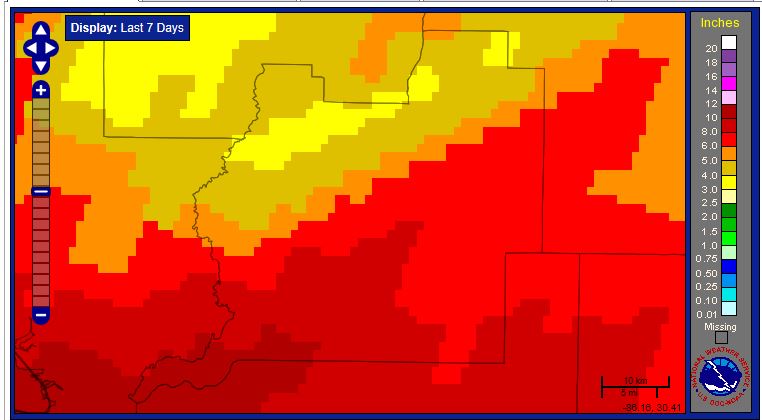 According to National Weather Service the 7 day rainfall totals for Washington County range from 3 to 10 inches. Totals above 6'' have been primarily limited to isolated areas in the extreme southern part of the county. The majority of the county has received between 3.5 and 6 inches in the last week. By themselves these rainfall totals are not terribly impressive; however, when combined with the other substantial rains the county received earlier in April the conditions have become very soggy and very concerning. Most of the county received more than 14 inches of rain during the month of April. Approximately four inches is "normal" for April.
Washington County's major agronomic crops – cotton, peanuts, field corn, and soybeans are planted in the spring. The recent wet conditions have delayed planting of most of these crops. This past week's rain event will further delay planting of those crops not yet in the ground and may necessitate the replanting of some of those already planted.
Most of the field corn in the county is between V1 and V3 (early vegetative growth) and seems to have fared pretty well thus far. Lodging seem to be the exception, not the rule. The inability to enter fields to apply fertilizer, and the inability of the corn to absorb nutrients from saturated soil are the greatest concerns going forward. Any fertilizer that had been applied in the last week was effectively lost.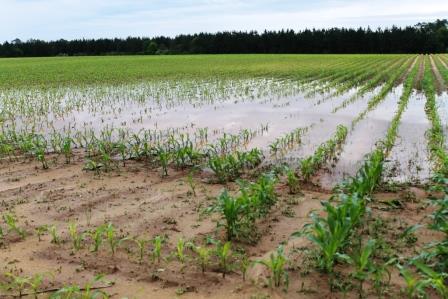 A few acres of cotton or peanuts were planted in Washington County prior to this past weekend. This means there are seeds in the ground that have not rooted yet. Seed planted on level ground should be fine assuming weather conditions improve fairly soon. Crusting could have an effect on seedling emergence in areas with clayey soil if the top layer of the soil dries rapidly. Seed, especially cotton, planted in areas prone to erosion may have washed away.
The amount of erosion varies greatly from field to field depending on soil texture and slope. The movement of soil as a result of heavy rains causes problems in two ways; the newly planted seed can actually be moved with the eroding soil, or eroded soil can be deposited on top of the seed burying it too deep, preventing emergence. For the most part it is still too early to know how much damage has been caused by eroding soil.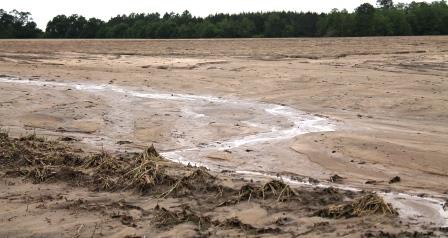 Recent rainfall will further delay planting on the remaining fields. If conditions improve fairly soon, planting dates should not be a concern, however if wet weather continues to keep farmers out of fields for more than a few weeks, yield loss associated with late planting could become an issue. Another potential issue associated with prolonged wet field conditions is seed rotting before it germinates. If rains continue and the top few inches of soil remain continuously saturated, seed will begin to rot.
The weather conditions during the coming days and weeks will have more effect on the crops than the recent weather event. If excessively wet weather persists, crop conditions and yield potential will begin to decline rapidly; if conditions improve, crops can successfully recover. The decision to replant, even a portion of a field, is a major financial commitment, so producers should complete a full financial analysis prior to making these decisions.
0