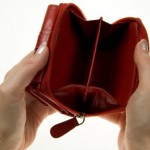 With the holiday season wrapping up, are you finding yourself saying things like: How did this happen? Why did I spend all that money? I can't believe I did. Why did I wait until the last minute to shop? At least I found a great deal on that TV I've been eyeing. I don't even want to think about how long it is going to take me to pay off the credit cards. I hope I didn't take too much money out of the ATM machine. Did I buy my mom the same gift twice? I should have done this differently. I should have had a plan.
With 2014 here, some of us are making resolutions, others are vowing to break bad habits and some are in recovery mode from their holiday spending sprees. While we are teaching fiscal responsibility to our 4-H youth, could we use a reminder ourselves?
Birthdays, Valentine's Day, Mother's Day, Father's Day, Grandparent's Day, baby showers, wedding showers, retirements, housewarmings, and of course Christmas – it seems every month we are buying something for someone! Marketing ploys and advertising for the latest and greatest gadgets, toys, clothing and shoes target us all making it a challenge to overcome but not impossible. Focusing on the real meaning of giving and receiving should help lower stress levels and direct our paths to fiscal responsibility. Being knowledgeable about your specific situation, making informed decisions and communicating with loved ones can reduce the effects of spending stressors.
By developing a spending plan and making a budget, you can purposefully plan for gifts that come up during the year and prepare for in advance for the next holiday season.
Ask yourself:
How much have I saved?
How much can I save each month?
What dollar limit can I set on gifts?
Am I comfortable creating debt?
Am I comfortable saying "no"?
Start with knowing how much you can spend and have a spending plan; your spending plan is critical for successful money management for not only the holidays but all year long. Surplus monies, after fixed and variable expenses, are what you should use for your gift budget. If your gift budget shows you spending more money than you have, you'll likely take on debt. If this is the case, you should also create a plan for paying off purchases made with credit. Prioritize your purchases and consider omitting purchases that require taking on debt.
Create a list of everyone that you know you will purchase gifts for during the year including holidays. Factor in decorations, cards, postage, gift wrap, food/entertainment and travel. These are additional costs that can make a drastic impact on the gift budget.
Once you've researched and set your budget, you're ready to start shopping. Remember your list and check it twice. Know for whom you're buying, what you plan to buy, and where you're going to buy from. Plan ahead and spread out purchases if possible. Shopping early keeps you on budget and reduces stress, and if that's not enough, it can also keep you from buying a bad gift. The sky's the limit and creativity is key for saving on gift giving and all the extras. Take advantage of coupons, special offers and/or extended hours BUT always be prepared to walk away. Be willing to prioritize and make necessary changes to your spending plan. Don't forget…your name is not on your list. If you see something you like, write it down and suggest or hint it to someone else.
If you have a large family, start by thinking outside the box. Consider a gift exchange by drawing names from a hat. While many families do this during the holidays, you can apply it for birthday gifts as well. This method allows you to put more thought than money into selecting a single gift. Thoughtful and often times more creative gifts can come from shopping with local businesses. Locally grown fruit and vegetables, honey or an item from a local artist are just a few suggestions of local products. Another idea is to donate to charity in someone's name instead of gift giving. You could also give a "gift of time." By creating a coupon book or certificate, you can give loved one a gift such as a specific chore, a trip to the park, babysitting or a slumber party for the kids. If you are feeling crafty, you could make and give arrangements like centerpieces and decorations. For the holiday season, consider purchasing a single gift for an entire family — perhaps an entertainment basket filled with DVDs and microwave popcorn.
This should go without saying, but use cash and/or debit cards when at all possible. Money coming directly out of your pocket will likely make you think harder about your purchase. If you are going to use a credit card, make sure you have a plan in place to pay it off when the bill is due. You also need to understand the allure of paying with credit. When you're not paying with "real" money, but are instead charging your purchases, your buying can easily get out of control, and the shopping process may not seem as painful in that moment. That's why those buy-now-pay-later campaigns are so successful. Be careful; paying with credit (unless you pay off the purchase when the bill is due) means it could cost you more (interest), not less. Record what you actually spent next to the estimated cost on your spending plan. Make necessary adjustments and remember to communicate your plan to loved ones. Special occasions are about spending time with family and loved ones. Don't let the gifts become the main focus and risk busting your budget.
Authors
Julie Pigott Dillard, CED & 4-H Youth Development Agent, Washington County
Ricki McWilliams, Family & Consumer Science Agent, Walton County
0