Normal
0
false
false
false
EN-US
X-NONE
X-NONE
/* Style Definitions */
table.MsoNormalTable
{mso-style-name:"Table Normal";
mso-tstyle-rowband-size:0;
mso-tstyle-colband-size:0;
mso-style-noshow:yes;
mso-style-priority:99;
mso-style-parent:"";
mso-padding-alt:0in 5.4pt 0in 5.4pt;
mso-para-margin-top:0in;
mso-para-margin-right:0in;
mso-para-margin-bottom:8.0pt;
mso-para-margin-left:0in;
line-height:107%;
mso-pagination:widow-orphan;
font-size:11.0pt;
font-family:"Calibri","sans-serif";
mso-ascii-font-family:Calibri;
mso-ascii-theme-font:minor-latin;
mso-hansi-font-family:Calibri;
mso-hansi-theme-font:minor-latin;}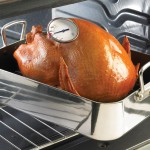 The highlight of many Thanksgiving meals is the turkey –juicy, golden brown, and delicious! Before and after it reaches the table, however, follow these steps to reduce your guests' risk of foodborne illness.
Thaw the turkey safely:
In the refrigerator at 40oF or below– allow 24 hours for every 5 pounds.

Place the turkey in a container to prevent the juices from dripping on other foods.

Cook within 1-2 days.
In cold water – submerge the turkey in a leak-proof plastic bag in cold water.

Change the water every 30 minutes until the turkey is thawed; allow 30 minutes per pound.

Cook turkey immediately after it is thawed.
In the microwave oven – check your owner's manual for specific instructions for defrosting a turkey.

Plan to cook it immediately after thawing because some areas of the food may become warm and begin to cook during microwaving. Holding partially cooked food is not recommended because any bacteria present would not have been destroyed.
For roast turkey, set the oven temperature no lower than 325°F. For optimum safety, cook stuffing in a casserole. If stuffing your turkey, mix ingredients just before stuffing it; stuff loosely. Additional time is required for the turkey and stuffing to reach a safe minimum internal temperature.
APPROXIMATE COOKING TIMES
(325°F oven temperature)
UNSTUFFED (time in hours)
4 to 6 lb. breast — 1 1/2 to 2 1/4

6 to 8 lb. breast — 2 1/4 to 3 1/4

8 to 12 lbs. — 2 3/4 to 3

12 to 14 lbs. — 3 to 3 3/4

14 to 18 lbs. — 3 3/4 to 4 1/4

18 to 20 lbs. — 4 1/4 to 4 1/2

20 to 24 lbs. — 4 1/2 to 5
STUFFED (time in hours)
8 to 12 lbs. — 3 to 3 1/2

12 to 14 lbs. — 3 1/2 to 4

14 to 18 lbs. — 4 to 4 1/4

18 to 20 lbs. — 4 1/4 to 4 3/4

20 to 24 lbs. — 4 3/4 to 5 1/4
Use a food thermometer to ensure your turkey is safe. Insert thermometer in the innermost part of the thigh, wing, and the thickest part of the breast. The turkey is safe at 165°F. Let the bird stand 20 minutes before removing stuffing and carving.
After the big meal, perishable foods should not be left out of the refrigerator for more than 2 hours. Remove all stuffing from the turkey cavity immediately and refrigerate. Cut turkey into smaller pieces and refrigerate. Slice breast meat; legs and wings may be left whole. Refrigerate potatoes, gravy, and vegetables in shallow containers.
Refrigerator-stored cooked turkey and cooked dishes and gravy should be eaten within 3 to 4 days. Reheat leftovers thoroughly to 165°F or until hot and steaming; bring gravy to a rolling boil. In the microwave oven, cover food and rotate dish so it heats evenly.
For longer-term storage, freeze food in airtight freezer containers or bags and use within 4 to 6 months for best quality.
Questions on Thanksgiving Day?
Ask Karen, the virtual food safety representative, is available 24/7 at AskKaren.gov. Weekdays between 10 a.m. and 4 p.m. ET, the USDA Meat and Poultry Hotline is available at 1-888-MPHotline (1-888-674-6854). On Thanksgiving Day, the Hotline will be open from 8:00 am to 2:00 pm Eastern Time.
Happy Thanksgiving!
Source: USDA Food Safety and Inspection Service, www.fsis.usda.gov.
0