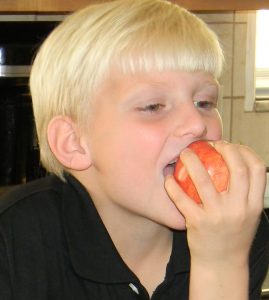 With kids back in school, moms face a set of challenges that somehow seem new every year. One of those challenges is what to feed kiddos who race in the door hungry after a long day in the classroom. As a savvy mom, you know that snacks can help your kids meet their nutritional needs – as long as you pick the right ones. That's where it can get a bit tricky because in addition to being healthful, the snacks need to be loaded with kid appeal plus be quick and easy to grab. Try some of the following ideas from the different food groups to create a snack that will give your kids calories (energy), meet their nutritional needs, and taste great as well!
• Banana Tortilla Treat – Grab a whole wheat tortilla, spread with peanut butter and sprinkle with low-fat granola. Put a peeled banana on top and roll the tortilla.
• Combo-licious – Top a scoop of cottage cheese with canned fruit. Choose peaches, pears, mango, pineapple or fruit cocktail.
• Wrap It – Spread fresh hummus on a whole wheat tortilla. Add thinly sliced carrots, zucchini, cucumber, or whatever veggie your kids prefer. Roll it up and go!
Feeling rushed in the afternoons? Plan ahead and create a healthy snack shelf at eye level in your pantry and in your refrigerator for kids to grab and go. You might try the following:
• String cheese and a small can of fruit.
• Fat free or 1% flavored milk (chocolate or strawberry)
• Pre-cut raw veggies (celery sticks, baby carrots, cucumber slices) in zipped baggies beside low-fat yogurt dip, cottage cheese or hummus.
• Snack-sized applesauce
• Trail mix with nuts and dried fruit
• Flavored rice cakes with peanut butter to spread
• Microwave popcorn
• Whole-grain crackers on the shelf and sliced cheese in the 'fridge
With just a little planning, you can avoid snack-time stress and help your kids learn healthy eating habits at the same time.
For more ideas, check out these snack tips for parents. 10 Choose My Plate Snack Tips
0