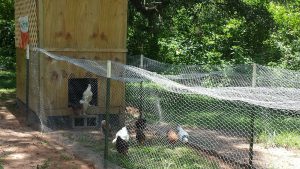 On Saturday, October 29th, 4-H'ers from across the panhandle suited up in their 4-H Show gear, loaded up their chickens and ventured off to the inaugural Florida 4-H Chick Chain hosted at the Walton County Fairgrounds. This project was piloted last year with Alabama 4-H and is now an annual small animal science project offered here in the panhandle.
The objectives of the project are to help youth learn poultry nutrition and care, to develop communication skills, to develop basic record keeping skills, and to develop responsibility. Over 80 youth participated and have been raising their pullets since May. Over the summer, they participated in webinars and workshops to help prepare them for the show and complete their record books. Some youth participated individually, some youth shared pullets with their siblings (making it a family project). Youth not able to have chickens at their home were able to participate through a Cooperative Coop. Cooperative coops are housed at the Extension Office and youth have the opportunity to sign up for shifts to help "rule the roost" by feeding and watering the chicks, monitoring their health, changing bedding, and cleaning the coop.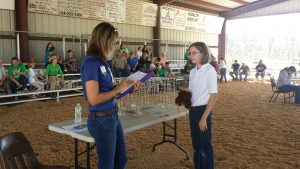 On Show and Auction day, youth experienced many opportunities to showcase their "egg-celent" skills they learned through the Florida 4-H Chick Chain project. First, youth were required to check-in their birds at registration with the Agriculture Inspector. This was the final step in determining if the youth had followed all the proper bio-security measures to keep their chickens happy, healthy and disease free. Next, youth participated in a skill-a-thon to demonstrate what they have learned about breed identification, poultry anatomy, and how to set up a brooder properly. During the show, youth demonstrated their knowledge and communication skills with confidence. Youth were judged on how prepared they were to answer questions about their project and how well they handled their birds.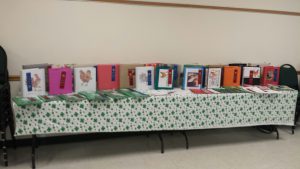 Do you have a passion for poultry? If so, consider sharing it with 4-H as a volunteer. 4-H needs volunteers to help teach life skills through projects like this by sparking a lifelong interest in learning, Contact your local UF IFAS County Extension Office or visit http://florida4h.org.
Helpful Resources:
Junior Showmanship
1st
Jena Putnam
2nd
Sheldon Sparks
3rd
Jake Rinehart
4th
Cass Dillard
5th
Ashlynn Peebles
Intermediate Showmanship
1st
Katie Ballard
2nd
Adrienne Murray
3rd
Lily Smith
4th
Isaac Hosford
5th
Kailey Pettis
Senior Showmanship
1st
Mary Ballard
2nd
Klarissa Williamson
3rd
Ashlynn McDevitt
4th
Myra Miles
5th
Jayla Kindlespire
County Best of Show Grand & Reserve
HOLMES
G – Joshua Ernst
R – Emily Ernst
JACKSON
G – Nathan Ziglar
R – Beau Miles
JEFFERSON
G – Jake Rinehart
R – Ashlynn Peebles
LIBERTY
G – Isaac Hosford
R – Millie Revell
OKALOOSA
G – Lily Smith
R – Kaelen Chenard
SANTA ROSA
G – Cayden Smith
R – Cat Proud
WAKULLA
G – Adrienne Murray
WALTON
G – Krista Laviolette
R – Leannah McDevitt
WASHINGTON
G – Cole & Cass Dillard
R – Lillian, Sheldon Sparks & Natalie Taylor
Breed Best of Show Grand & Reserve
BRAHMA
G – Lily Smith
R – Cole & Cass Dillard
DOMINIQUE
G – Jake Rinehart
R – Krista & Julie Laviolette
LEGHORN
G – Beau Miles
R – Mary Ballard
POLISH
G – Lillian & Sheldon Sparks, Natalie Taylor
R – Nathan Ziglar
RHODE ISLAND RED
G – Emily Ernst
R – Jenna Putnam
WYANDOTTE
G – Jayla Kindlespire
R – Kaelen Chenard
Overall Grand & Reserve (New)
G – Lily Smith
R – Beau Miles
Overall Grand & Reserve (Returning)
G – Emily Ernst
R – Myra Miles
0