One of the major issues homeowners face in their landscapes is selecting a tree that in maturity will be in scale with the rest of their garden and home. While we have several actual trees that fit the bill, I would like to focus today on thinking outside the box by selecting a larger growing shrub that we can "limb up" into a small tree!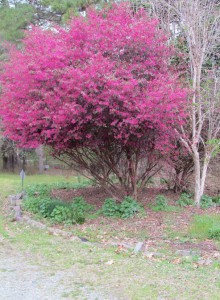 Today's plant is Loropetalum chinense, also known as Chinese Fringe Flower, a beautiful import related to our native Witchazels (Hammemelis spp.). Some species of Loropetalum can have green foliage and white flowers, but it is generally found in its coveted maroon-foliaged form, which is the subject of this piece. Most cultivars of Loropetalum (with the exception of a few newer 'dwarf' cultivars) are large (to 20' tall and about half as wide) evergreen shrubs that prefer partial shade to full sun. In the early spring, it bursts with wavy, fringe-like red, pink, or white flowers!
In order to "tree-form" the plant, one should gradually begin removing lower lateral branches, crossing or rubbing branches, and any potentially diseased branches, leaving 5-7 main trunks. Eventually, most common cultivars of Loropetalum can easily be pruned to have 4'-5' of exposed trunk!
Unfortunately, Loropetalum has been both overused and misused as a tightly sheared foundation plant in every landscape imaginable, from gas stations to Aunt Gertie's rental house. As such, it has gotten a bad reputation as a monster that has to be constantly sheared to keep it in line. This reputation is completely unwarranted if using the shrub as it was meant to be used, as a large specimen shrub or a graceful small-tree! Yet another example of how using the right plant in the right place can change the public's entire perception of it! Try tree-forming a Loropetalum today and enjoy it for years to come! Happy Gardening!
0