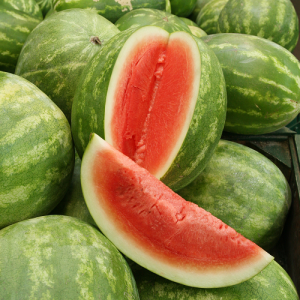 Oh, watermelon. How do I love thee? Let me count the ways.
Watermelon is the perfect warm weather treat and a summer holiday essential. It's a sweet, light, and delicious snack and its versatility lends itself to a wide variety of beverages, salads, meals, and desserts.
Watermelon is more than just water and sugar. It's jam-packed with a number of vitamins and minerals that can help you stay healthy, including vitamin A, vitamin B6, vitamin C, potassium, and lycopene.
Vitamin A is vital to eye health and helps boost your immune system by supporting the functions of the infection-fighting white blood cells.
Vitamin B6 has many functions in the body, including aiding in immunity by supporting the creation of antibodies, which are needed to fight off infection. It also helps maintain proper nerve function and aids in the creation of red blood cells, which carry oxygen to all parts of the body. Vitamin B6 is also used to break down proteins into smaller parts that can be used to build and maintain muscle mass.
Vitamin C also helps boost immunity and overall cell health by helping to break down free radicals in the body, which can deteriorate cells over time.
Potassium is a mineral that is necessary for keeping a healthy water balance in the body, helping to maintain proper water balance and reducing the incidence of painful muscle cramps.
Lycopene is one of a family of vitamin precursors known as carotenoids. This substance is what helps give those bright red and pink fruits and vegetables – such as watermelon – their lovely color. Lycopene and other carotenoids function as antioxidants, which help eliminate those previously mentioned harmful free radicals. And preliminary studies have shown that lycopene may help reduce triglycerides and LDL cholesterol, which may lead to a reduction in cardiovascular disease risk.
Nearly every part of the watermelon can be eaten, from the sweet and juicy fruit to the rind, which is often pickled or used in stir frys. Even the fruit itself can be grilled and served as part of a savory dish. And watermelon is a sweet addition to many colorful summer salads.
One of my favorite watermelon recipes is a twist on a traditional favorite – Watermelon Lemonade – and is sure to be a great addition to any of your summertime picnics. Try it today!
Watermelon Lemonade
Ingredients
1/2 cup lemon juice
2 1/2 cups water
2/3 cups agave syrup*
2 cups watermelon chunks
*Other sweeteners may be used instead of agave syrup. However, be careful when adding them, as you may need to use less. Add to taste, mixing in a little at a time until you reach the desired sweetness.
Instructions
Place all the ingredients in a blender and blend until smooth. Serve over ice.
Servings
Makes about 5 cups.
Nutrition Facts
Serving size: 1 cup
Calories per serving: 163
Fat per serving: 0.3g
Saturated fat per serving: 0.0g
Fiber per serving: 0.3g
For more delicious recipes, please visit http://www.watermelon.org/Recipes.
0