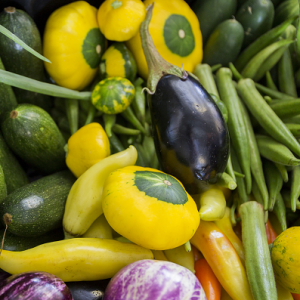 North Florida's beautiful spring weather means we get to enjoy a variety of delicious, locally-grown fruits and veggies during the summer months. Produce such as bell peppers, squash, tomatoes, greens, corn, cucumbers, okra, peas, eggplant, and a variety of melons are plentiful and fresh from late spring through early fall.
The benefits of eating fresh fruits and vegetables are numerous and well-known. Fruits and veggies provide important vitamins and minerals that are vital to keeping your body working properly. They're rich in fiber, which is important for digestive health and helps lower cholesterol. They provide antioxidants, which can help reduce your risk of a variety of cancers. They're low in calories, fat, and sodium, which make them an ideal snack. And their colorful spectrum makes them a beautiful and healthy addition to any meal.
The MyPlate https://www.choosemyplate.gov/MyPlate guidelines call for making half your plate fruits and vegetables as part of a balanced meal. But remember, preparation is key. Steamed, roasted, raw, baked, and grilled veggies will provide the biggest nutritional bang for your buck, allowing the natural flavors to shine through. Deep fried, breaded veggies add unnecessary fat and calories, so be careful not to rely on this cooking method too often.
Mix and match! Pair a leafy green with a starchy vegetable for a wider spectrum of nutrients. Add fruits such as mandarin oranges or dried cranberries to a salad for a little extra sweetness. Try new flavor combinations by adding herbs and spices – but go easy on the salt!
While fresh fruits and vegetables are healthy, delicious, and plentiful during Florida's summer months, frozen and canned varieties, including juices, can also provide many of the same health benefits. However, be sure to read the label carefully before buying. Look for low sodium or no salt varieties and only purchase 100% juice beverages, as other drinks may contain a lot of artificial flavorings and colors.
For more information about the benefits and uses of fresh North Florida produce, please visit the Panhandle Produce Pointers page at: http://wfrec.ifas.ufl.edu/panhandle-produce-pointers/produce-pointers-sheets/.
0