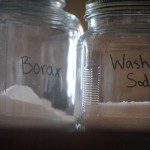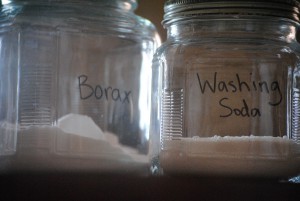 Spring has sprung and this is the perfect time to clean and freshen your house. But you don't have to spend a lot of money on cleaning products when you can whip up your own with a few simple, inexpensive ingredients.
The basic ingredient list includes:
White Vinegar
Baking soda
Rubbing alcohol
Ammonia
Mild dish detergent
Washing soda (can be found in the laundry products aisle)
Borax (also in the laundry section)
Use clean jars or bottles for mixing and storage. Do not use food containers – children can think the contents are something to eat. Also, don't mix your products in empty cleaning product bottles; residue from the original product may interact with your product, causing a dangerous reaction. Label each product and store out of reach of children. NEVER mix chlorine bleach with ammonia or vinegar – it will create dangerous, toxic fumes!
Here are a few recipes to get you started:
ALL-PURPOSE CLEANER
Mix in a 16 oz. or larger spray bottle:
1 cup white vinegar
1 cup water
Use on sinks, countertops, lightly soiled range surfaces, floors, toilets, and showers.
WINDOW CLEANER
3 tablespoons ammonia
1 tablespoon white vinegar
Put in a spray bottle and fill the rest with water.
HOMEMADE LAUNDRY DETERGENT
1 bar Ivory® or 1/3 bar Fels Naptha® soap
1/2 cup washing soda
1/2 cup borax powder
Grate the bar soap into a cooking pot. Add 6 cups of water and heat until the soap melts. Add the washing soda and borax and stir until dissolved. Remove from heat. Pour 4 cups hot water into a clean bucket. Add the soap mixture from the pot and stir. Add 1 gallon plus 6 cups of water and stir. Let the soap sit for about 24 hours and it will gel slightly. Optional: Add 1 ounce essential oil or fragrance oil of your choice.
Use 1/2 cup per load. This is a low-sudsing soap which removes dirt and odor and can be used in high-efficiency machines.
For more product recipes, check out Homemade Household Cleaners and Green Cleaning: Recipes for a Healthy Home.
Sources: Homemade Household Cleaners
Clean It Green!, C. Rogers, UF/IFAS Extension Suwannee County.
by BLOGS.IFAS

Posted: April 5, 2016
---
Category: Health & Nutrition, Home Management, Work & Life
Tags: Clean, Cleaners, Homemade, Living Well In The Panhandle
---
---