Get a "Bang" Out of July 4 Safely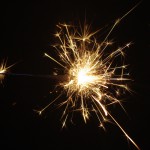 The bright, beautiful colors of a fireworks displays are a sight to behold and the highlight of July 4 celebrations across the country. But, it's important to be careful when selecting and using fireworks for your family's celebration. The National Council on Fireworks Safety offers these consumer safety tips:
Check and obey local laws regarding what types of fireworks are legal in your area.  Laws vary by state and municipality.
Only buy consumer fireworks from a licensed store, tent, or stand. Never buy fireworks from an individual's house or from someone on the street. Such devices are likely illegal explosives or professional 1.3G fireworks that can seriously injure you.  Illegal explosives are often unpackaged and wrapped in brown paper. They are unlikely to have any safety warnings or the place of manufacture.
Know your fireworks; read the cautionary labels and performance descriptions before igniting.
A responsible adult should ALWAYS supervise fireworks activities. Never give fireworks to children.
Do not consume alcohol while using fireworks.
Wear safety glasses when shooting fireworks.
Always have a bucket of water and charged water hose nearby.
Light one firework at a time and then quickly move away.
Use fireworks OUTDOORS in a clear area, away from buildings and vehicles.
Never relight a "dud" firework. Wait 20 minutes and then soak it in a bucket of water.
Never carry fireworks in your pocket or shoot them into metal or glass containers.
Do not experiment with homemade fireworks.
Dispose of spent fireworks by wetting them down and placing in a metal trash can away from any building or combustible materials until the next day.
FAA regulations PROHIBIT the possession and transportation of fireworks in your checked baggage or carry-on luggage.
Report illegal explosives, like M-80s, Quarter Sticks, and Cherry Bombs, to your local fire or police department.
Use your fireworks according to instructions and safety warnings and enjoy a safe, happy Fourth of July!
Source: National Council on Fireworks Safety, http://www.fireworksafety.com/