Guodong (David) Liu, Ph.D. has concluded applied research on recycling the nutrient solution used for greenhouse vegetable production to prevent groundwater pollution. He determined whether recycling could result in an accumulation or deficiency of elements which would be deleterious to plant growth, product quality, and the dietary value of vegetables.
"Complex fertilizer systems have been developed to maintain appropriate concentrations of all elements in recycled systems. We compared a much simpler system in which all excess solution drained from the plants was recycled without adjustment or dilution compared with a system with no recycling as a control", Dr. Liu said.
Crops of greenhouse tomato (Solanum lycopersicon L.) were grown for two years to compare the systems. Differences in composition of solution drained from the plants developed gradually over more than one month.
The transition from vegetative to fruit growth, which coincided with warmer weather, resulted in a decreased demand for nitrate and other nutrients. Additionally, an increase in electrical conductivity (EC) of water drained from the root zone was noted.
The composition of the fresh solution supplied to the plants was adjusted accordingly. It took a longer time to re-establish an optimum composition for recycled compared with control watering. EC tended to increase in the recycled system.
Recycling decreased total yield and fruit size, but marketable yield was unaffected. The marketable fraction increased in the recycled treatment primarily as a result of fewer fruit with cracked skin.
This effect was consistent across the seven cultivars tested. The cultivars did not differ in their response to the two watering systems.
Dr. Liu is Assistant Professor & Crop Nutrition Specialist in the UF/IFAS Horticultural Sciences Department in Gainesville, Florida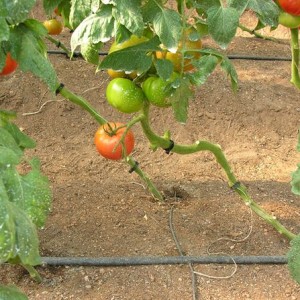 0