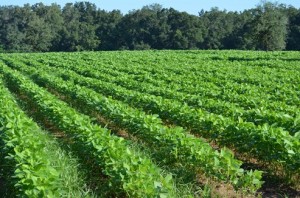 Second crop soybeans are blooming in Florida's Big Bend and doing well with sufficient rain. Many fields are following green chopped corn used in dairies for immediate needs or ensiling.
Producers have kept a watchful eye on the tropical weather situation and prices. Two near misses and ten more weeks of hurricane season will tell if the gamble against disease, insects and weather paid off.
Prices on the Chicago Board of Trade (CBT) and other markets inspired producers to take the risk of late planting. August CBT prices for soybeans have hovered near $18 per bushel.
The remnants of Hurricane Isaac are delivering some much needed water to the U.S. Midwest, but to no good use for too many acres. Frost dates are looming which makes replanting pointless.
It is still a long time to harvest in the Big Bend.
0