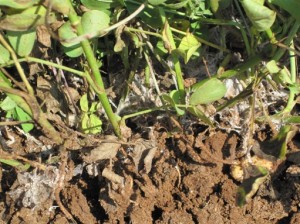 Frequent rains over the past week have everything growing rapidly, weeds included. Rust in soybeans, white mold in peanuts and beans, and leaf spot in cotton have made appearances. Almost everyone is behind on their spray schedule which is a big concern.
Some fields in south Washington County are just too wet for spray rigs to spray without rutting up the fields. Topguard has been the most effective product to stop rust in soybeans.
Hay and corn harvest has been impossible with the threat of rain almost every day. Loopers and army worms are active on almost all crops. Scouting is recommended at least once and preferably twice a week.
It is a good time to wean calves to allow brood cows to put on flesh going into the winter. It is much easier and less expensive to feed a fleshy cow through the winter than a thin one. Weaning is strongly recommended by September 1 if possible.
0