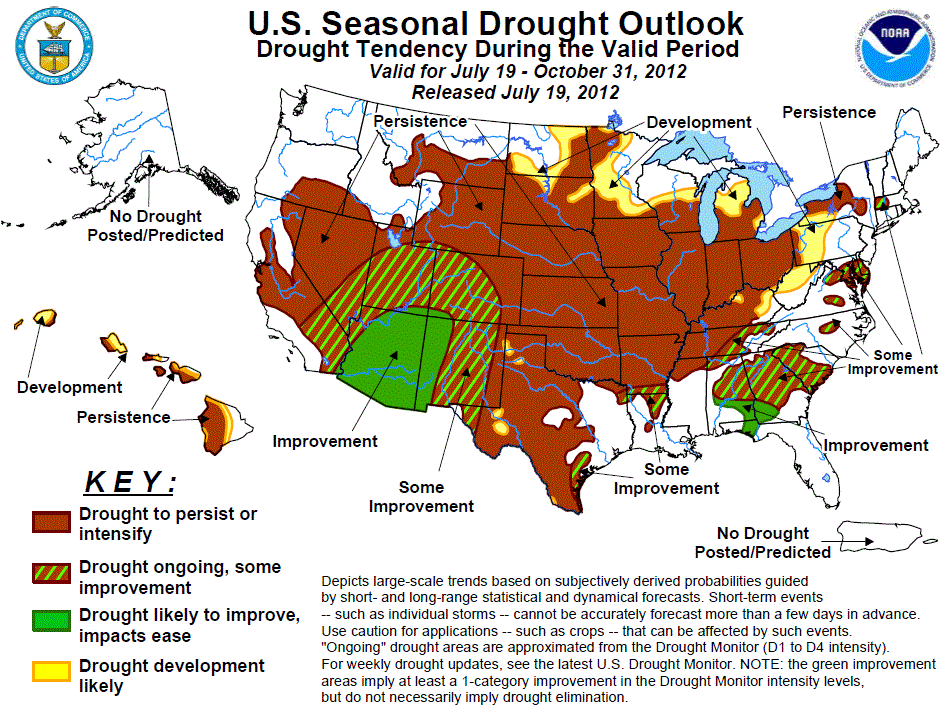 Rains in Wakulla County and the remainder of the Big Bend region have been generally sufficient to support hay production and pasture growth. Since Tropical Storm Debby, Wakulla County has received consistant rain with scattered showers in the area.
Some area hay producers could use a few predictably dry days to cut and bale. The local sandy soils dry quickly, so no more than a few sunny days are a positive condition for forage producers.
While not ideal, local producers are, as a group, thankful for weather conditions here as compared to other regions. The hot dry, temperatures in the major livestock and grain states has most local producers concerned about the months to come.
The drought in the Midwest has lasted longer and is more widespread than many commodity traders expected. This surprise has led to high prices as crop conditions continue deteriorate.
A National Oceanic and Atmospheric Administration (NOAA) report stated, based on the Palmer Drought Index, 55 percent of the contiguous United States was under moderate to extreme drought in June. Analysts are slashing corn yield estimates across the grain belt based on this report identifying this event as the worst drought since1956.
The U.S. corn production has dropped another seven percent based on the USDA's downgraded estimate of a week ago.
The U.S. Department of Agriculture (USDA), in its weekly crop progress report issued on Monday, July 16, 2012, said 31 percent of the corn crop was in good to excellent shape, down from 40 percent a week earlier.
The report indicated soybeans followed suite as conditions fell to 34 percent as good to excellent, down from 40 percent. The forecasts for acres to be harvested are falling as farmers opt to plow under some of their fields in anticipation of filing crop insurance claims.
While the corn-belt weather is expected to be hot and dry over the next two weeks, there is a chance of two rain events which may help mitigate some of the crop damage. The rain is not expected to fall in the hardest hit areas of the southeast corn-belt, but may slow crop deterioration seen in the northern and western areas of the corn-belt.
If the rainfall doesn't develop or is disappointing, then the worries are just beginning.
0