A change in the winds is forecast by the National Weather Service over the next 24 hours that will bring smoke from the large "County Line" wildfire to parts of panhandle Florida. The County Line fire in northern Baker County has grown to over 35,000 acres.
This fire, in the Osceola National Forest near the Georgia state line, has been producing very heavy smoke for hundreds of miles downwind. The prevailing winds have kept the plume over areas near Gainesville to Jacksonville for the past week.
Some panhandle counties experienced a smoky haze Saturday morning, April 7, 2012. Winds should shift tonight to an easterly heading and bring much more of the smoke plume with it.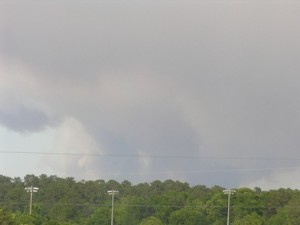 Caution is advised for driving is areas with heavy smoke and obscured visibility.
0