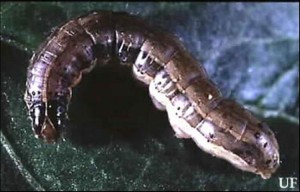 Fall Armyworms have been reported in adjacent state's hayfields. Several counties in the black-belt of south Alabama, south Georgia, and the coastal bend of Texas have all seen activity in Spring 2012. Reports from east Texas indicate the worms are out in unusually large numbers.
As the name indicates, outbreaks are more commonly associated with the autumn. These pest consume about 80 percent of all the food they will eat in the last two to three days of their 30-day life cycle, so stopping them early is critical
A prudent course of action suggests scouting for this pest now.
0