It's still the dog days of summer so it's hard to believe that the first day of school is right around the corner. Soon, the kids will be wrapping up the lazy days of summer and the fun of summer camps and family vacations to prepare for the back to school routine. Making school supply shopping a special event helps children get excited and ready for the new school year. Back to school costs can add up so be sure to have a plan.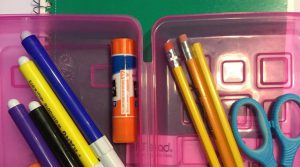 Create a list of back to school supplies and clothes. Check with your local school for a current list of required school supplies. Remember to include clothes, shoes, sports equipment, extracurricular activity supplies, and other school fees. Inventory items that you may already have from the last school year. Identify what items might be outgrown or need to be replaced and note what items are still usable.
Determine a budget and stick to it. Involve children in creating a budget and making purchasing decisions to help them learn financial management skills. Shopping with children is great time to talk about needs versus wants and how to make buying decisions to stay within a budget. Children might be able to contribute some of their own earned money to buy school supplies or clothing.
Take advantage of the Back to School Sales Tax Holiday. The State of Florida has declared August 2 – 6, 2019 as a Back to School Tax Holiday. Eligible items include: Clothing, footwear, and certain accessories selling for $60 or less per item, certain school supplies selling for $15 or less per item, and Personal computers and certain computer-related accessories selling for $1,000 or less per item, when purchased for noncommercial home or personal use. For a complete list of eligible items visit the Back to School Tax Holiday site: https://revenuelaw.floridarevenue.com/LawLibraryDocuments/2019/06/TIP-122444_TIP_19A01-03_FINAL_RLL.pdf
Many stores offer back to school sales and deals. Grab sales flyers and shop around for the best deals. Thrift stores and consignment shops are some other alternatives.
For more information, contact your local UF/IFAS Extension office: https://sfyl.ifas.ufl.edu/find-your-local-office/
For more information on back to school topics:
https://blogs.ifas.ufl.edu/franklinco/2018/08/02/back-to-school-survival-tips/
https://fyi.extension.wisc.edu/news/2015/08/05/planning-for-back-to-school-shopping/
0