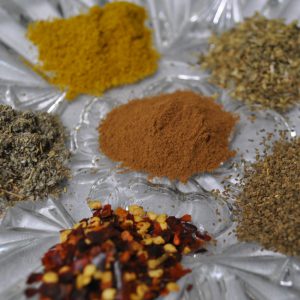 With today's continued focus on healthy eating and the dangers of high blood pressure, seasoning and cooking with salt has decreased. Alternative seasonings such as herbs and spices are excellent additions to any dish without the dreaded sodium. Herbs and spices are easy to use and can add a variety of delicious flavor combinations to any family favorite.
The difference between an herb and a spice is the part of the plant used. Herbs come from the leaves and soft stems of the plant. Spices are taken from the roots, seeds, bark, fruit, or flowers of the plant. Spices tend to have a stronger flavor than herbs, and are usually used in smaller quantities.
Besides being a healthy substitute for salt, herbs and spices can also replace added fat and sugar without contributing extra calories. Instead of adding extra sugar to oatmeal, for example, try using cinnamon or allspice.
Add cumin or ground black pepper to more savory dishes instead of reaching for the salt shaker or butter. Try seasoning meats with herbs and spices instead of coating them in breading or gravy.
Not all herbs and spices pair well with all types of foods. Herbs and spices should be used to enhance and complement the flavor of food without taking it over completely.
A strong herb such as rosemary would completely overwhelm a mild-tasting food like peas or other vegetable. Conversely, a mild herb such as parsley would be completely overwhelmed by a strong-tasting food such as lamb or beef.
Dried herbs can be used instead of fresh herbs in recipes, and vice versa. Keep in mind the flavor of dried herbs is much more concentrated than that of fresh, so reduce the amount accordingly.
Use only a quarter to half as much dried as fresh. Start with a smaller amount, and then add as needed to achieve the desired taste.
Look for herbs with a bright green color and little or no wilting when choosing fresh ones. Avoid bunches showing signs of mold, slime, or pests.
Wash fresh herbs in clean, cool water to get rid of any sand. Fresh herbs need to be stored in the refrigerator, in an unsealed plastic bag, to maintain optimal freshness. They can last up to three weeks, though should be used within a week for the best flavor.
Dried herbs and spices, if stored correctly, do not spoil. However, they will lose their flavor and aroma over time.
Ideally, flaked or ground herbs and spices should be replaced every six months for maximum flavor, but can remain viable for up to three years. Whole spices such as cinnamon sticks and peppercorns can remain effective for up to five years.
Not all herbs and spices are created equal. When using them in cooking, it is important to remember the more delicate herbs such as basil and chives should be added right before serving to preserve their flavor.
Less delicate herbs such as thyme and oregano can be added earlier in the cooking process since they retain their flavor better. When creating herb blends, mix, match, and be creative. Add them to a cheese shaker for easy access during meals.
To learn more, sign up for the Extension Cooking Class series which starts September 7, 2017 at the UF/IFAS Wakulla County Extension Office at 84 Cedar Avenue in Crawfordville. Start time is 6:00 p.m. and the cost is $ 10.
For additional tips about cooking with herbs and spices, call Samantha at the UF/IFAS Wakulla County Extension office at (850) 926-3931.
0