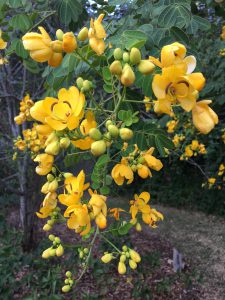 When many of our summer blooming plants start fading, yellow cassia, Senna bicapsularis, becomes a show stopper. Late fall and early winter is when it blooms and dazzles. The bright yellow flowers appear in numerous clusters at the tips of this many branched shrub. This makes for a stunning display in sunny areas of the landscape.
Yellow cassia grows to 8 to 12 feet in height and at least twice that in width. In the panhandle it often freezes back when we have a harsh winter. If that happens, prune it to the ground and it will come back the following spring and regain its previous size and beauty by late fall when it is ready to bloom. An advantage is that it is moderately drought and salt tolerant.
The flowers are attractive to bees for pollen although they are not attractive to butterflies as the flowers don't produce much, if any, nectar. Yellow cassia serves as a host plant for some lovely butterflies. The cloudless sulphur, orange-barred sulphur and the sleepy orange all use cassia to rear their caterpillars. The shrub will rarely be heavily affected by a little herbivory from their caterpillars and will recover to bring you a stunning display the following year.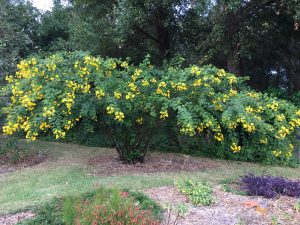 If you purchase a yellow cassia, check out the botanical name. Senna bicapsularis is what you want and not Senna pendula var. glabra which is a listed invasive plant species for central and south Florida.
For more information on Florida gardening:
0