In the last few weeks, more garden pests have arrived! It is a fact of life in northwest Florida that we will have a few things in our garden including heat, moisture (humidity and rainfall), and BUGS! With a cooler spring the arrival of some of the troublesome pests in the garden seemed to be delayed a few weeks. It was nice while it lasted but the insect pests are here to stay until frost in the fall or winter (at least we hope for a frost this year).
There are thousands of insects that you can see in your garden. It's wise to identify them before making a decision to spray an insecticide or remove them by another method. Insect samples can be taken to your local county extension office for identification.
In this article we will just discuss one of the top insect pests in the vegetable garden, caterpillars, and what you can do about them.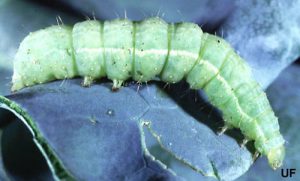 Beet armyworms, fall armyworms, hornworms, cabbage loopers, southern armyworms, tomato fruitworms, and other caterpillars love to feed on tomato foliage and fruit. They will show up eventually on tomato plants in the garden, if not this year then in the future. These larvae are immature moths and cause a lot of damage if left unchecked. The homeowner can control them effectively with Organic Materials Review Institute (OMRI) approved pesticides. A bacterial biological insecticide called Bacillus thuringiensis, also referred to as B.t., can be very effective in controlling these caterpillar pests. B.t. is a stomach toxin to these pests and will cause them to quit eating and starve to death. The key to using B.t. effectively is to routinely apply it before the caterpillars hatch from their eggs as the smaller caterpillars are easiest to control. Larger caterpillars are more difficult to control.
For more information related to using OMRI pesticides:
Organic Vegetable Gardening in Florida
Insecticides for Organic Commercial & Backyard Vegetable Production
0